We have the experience and expertise to diagnose and solve your stucco repair problems. We provide written proposals and will schedule the work in a timely manner. We are just a phone call away! Hardcoat & Synthetic (EIFS) Stucco Repairs.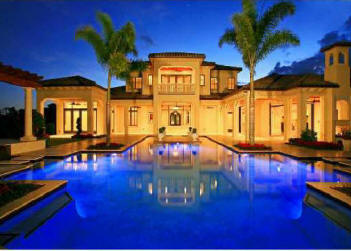 Traditional stucco is a cement mixture used for siding, usually on Mission or other Spanish style homes. The cement is combined with water and inert materials such as sand and lime.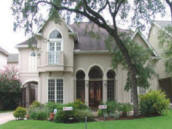 Although stucco-sided homes became popular in twentieth century America, the concept of using cement mixtures in architecture goes back to ancient times.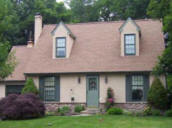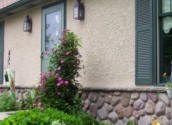 Stucco techniques were elaborated by the Italians during the Renaissance and spread through Europe. This marble dust compound could be molded into decorative shapes, polished to a sheen or painted. Many homes built after the 1950s use a variety of synthetic materials which resemble stucco.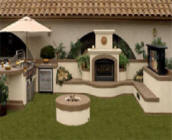 We offer the following services:
Interior Lath and Plaster Exterior Lath and Stucco Venetian Plaster Foam-Filled Precast Architectural details Architectural Foam Mouldings Erect Scaffolding Sand Blasting and Restucco Residential & Commercial Specialists E.I.F.S. Acrylic Plastering Applications Armourcoat Polished Plaster App. G.F.R.C. Lagoon Pools and Spas Design and Consultations Available Installation of pre-manufactured or custom precast fireplace surrounds and mantels

Do you have stucco cracks, bulges or even stucco falling off of your house? This may mean you have rotten wood under the stucco. We can help! Whether you have hardcoat or synthetic stucco (EIFS - Exterior Insulation & Finish System) We can correct the problem.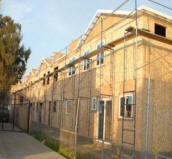 Stucco Bottom Cut During construction of a home the stucco exterior is installed prior to installation of concrete driveways, sidewalks, porches or steps. When this procedure is followed the stucco will be behind and below the concrete. If, at this time, the stucco is not finished and sealed correctly it will be in contact with the soil under the concrete.
| | |
| --- | --- |
| Stucco Behind & Below the Stone | Bottom Cut & New Trimband Complete |
| Stucco in contact with concrete, prior to a bottom cut. | After the Bottom Cut with a Trimband Installed |
We can stucco over your wood siding to create a hard, energy efficient, and beautiful new stucco exterior. We lath and plaster new homes and additions, and fix all types of patches, We do both 3- coat systems and 2 coat systems. We can provide conventional or acrylic finishes in many different textures to either match or change the appearance of your house.
Gallery
See More Jobs Below
We are Available NOW For Your Job FREE Estimate Call 24x7 TOLL FREE 866-643-8662.