Do you need Local skilled painters for your home or apartment? We invite you to take advantage of our high quality work. We offer: Pressure Washing cleaning Thorough and complete surface preparation: Multi-Color Schemes: Custom Sprayed finishes: Lacquer/Staining/Varnishing: Acoustic ceiling and: wallpaper removal/ Retexturing: Faux Finishes: Mildew-Removing-Cleaning Proof Coatings Specialty Coatings: Kitchen-Bath Cabinets Refinishing-Installers: house inside outside colors, Color Consulting.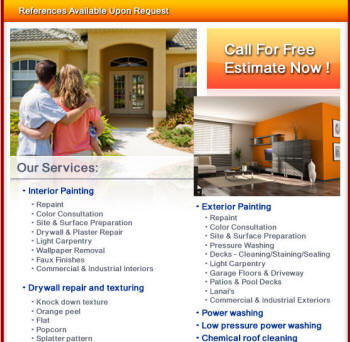 Interior home painting can be done effectively year-round, no matter the weather outdoors. We select premium paint for all jobs; however we are always willing to discuss your preferred brands. We will also consult on the most appropriate finish for a rooms walls and trim. backfilling.
See More Jobs Below
We are Available NOW For Your Job FREE Estimate Call 24x7 TOLL FREE 866-643-8662.