If you are interested in some easy to install beautiful fireplace and pergola kits, Here they are.
Pacific Living is proud to introduce a brand new concept in home pergolas, ready today, made in the U.S. of A. and making it easier than ever for you to have the backyard of your dreams!
A Pergola kit from Pacific Living, Inc. can come in many sizes and shapes. Style of a pergola kit, attached to the home or not, should be complimentary and true to the style of the home. Our pergola kits are designed to compliment a variety of styles and tastes. Click here to learn more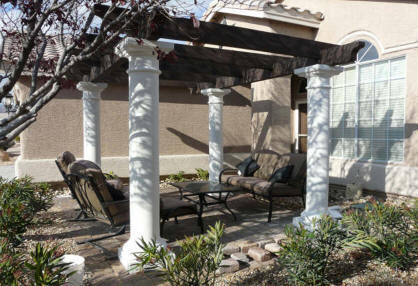 Please click small arrows to side of thumbnails for more photos
[photogallery/photo00028201/real.htm]
I am your stone mason Mine is one of the oldest professions and the most powerful. I created pyramids and towns, cathedrals and aqueducts. Without us, there was nothing truly durable. I am part of the earth. I am your stone mason. I am the strongest of the tradesmen. Quarrying stone is backbreaking work. Many of us died creating the monuments that last forever. Those of us who survived, acquired the strength of stone in our dna. Many perils. A mistake means crushed limbs, broken bones. Inhaling rock dust contaminates our lungs. But our pride knows no bounds. I am your stone mason. The earth gives us our building materials, created through intense pressure, heat, and eons of time. I build for eternity. The pyramids I and my fellow masons created last to this day. Sometimes I polish stone and you get a wonder like the Taj Mahal. other times, I leave the stones as they are. I look from the heavens and point to our accomplishments. I and my fellow masons form societies and think our own thoughts. I know the secrets of engineering that no one else knows. I long to know other secrets. I have endured extreme weariness and come through with muscles of stone. I offer much to your home. I am your stone mason. I can build an arch as an entryway to your property. Our stone walls demark your property lines and serves as protection from prying eyes. Sometimes your entire home is built of stone, sometimes only a fireplace. I offer you beauty and durability. I thank the earth for giving such a variety of colors and textures to work with. Forgive my pride but that is part of who I am, your stone mason
DON'T FORGET TO SEE ALL OUR SERVICES BELOW
You can only judge the quality after the work has been completed. So please go see some jobs in progress before leaving
| Full-Portfolio |
| Landscape | Design/Build | Promotions |
| Services | About us | Careers |
| Customer Service | Jobs in Progress |
|
|

Thank you for visiting Designer Properties. Here you can learn more about us in the comfort of your home/office. It should give you enough insight on why we are one of the busiest companies in the area. We are a Full Site Development company.Designer Properties and Associates is one of the few companies in this business run as a team of expert Contractors and Master Tradesman. Our contractors and Tradesman work independently, Under their own contracts have their own license and insurance and responsible for their area of expertise. We are a company that emphasizes a team solutions approach. "Designer Properties boasts a unique, close-knit team of experts in all facets of construction development" we provide **FREE ESTIMATES**. We serve: All of Texas, Oklahoma, North Carolina, South Carolina, Georgia.**Coming to your state soon**.


24x7 TOLL FREE 1-866-559 -1871

We suggest that you review the license and insurance of the professional you select. We also suggest that you call references. It is your responsibility to select the professional you are interested in working with. Any contract or agreement you have with a contractor is between you and the company you select and does not involved our program. By using our website, you agree that should you have a dispute with any company, you must address such dispute directly with the business that performed the work. You also agree to release Designer Properties, and DP and Associates (and our officers, affiliates, directors, employees, and agents) from any damages or claims arising out of or in any way connected with such disputes.
www.atlantagaremodelingcontractors.com www.atlantagalandscape.com www.charlottenccabinets.com www.charlottencoutdoorkitchens.com www.charlottencpatios.com www.columbiasclandscaping.com www.designerproperties.net www.designerpropertiestexas.com www.dpandassociates.net www.houstontexasbuildersremodelingcontractors.com www.houstontxlandscapeandoutdoorspaces.com www.landscapeandhomecontractors.com www.raleighncremodelingcontractors.com www.sanantoniotexasbuildersremodelingcontractors.com

David@dpandassociates.net sales@dpandassociates.net customerservice@dpandassociates.net
"Q. How do you offer so many Services? A. We are a company of Contractors-Tradesmen & Designers,"