"Q. How do you offer so many Services?
A. We are a Company of Contractors-Tradesmen & Designers,"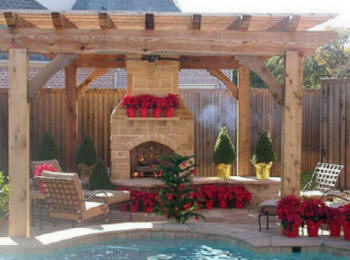 OUTDOOR FIREPLACES
Outdoor fireplaces have become a must for new homes, Outdoor fireplaces have been popular for several years, and have become in vogue in other locations in recent month's something we're going to see as obligatory in a high-end home, Just as a Jacuzzi is to a master bath, we'll see this as part of an outdoor living space. Some burns gas or wood and is framed with elaborate cast-stone to fit with the homes style. Some winters are cool enough to require a bit of warmth, but not so cold that you don't want to go outside. The patio fireplace makes the outdoors more livable. between indoor/outdoor spaces , People can incorporate an outdoor fireplace into the renovation. A wood-burning stone fireplace under a gazebo on the lanai. expect it to be a romantic spot, for party guests, They can warm themselves while enjoying the waterfront view. When you have Thanksgiving or just have people over at the holidays and they want to go outside and have a cigar or have a drink, people don't want to freeze their butts off, A custom-built patio fireplace can be pricy. A prefabricated unit costs around $2,000, and "the sky's the limit" on the cost of the mantel, material and design. A fireplace built from scratch starts at about $8,000,
FIRE-PITS BUILDERS
A Fire Pit is a great way to enjoy an outdoor fire! A Fire Pit allows you to enjoy your patio in comfort and warmth. And a Fire Pit adds the ambiance of an open fire right on your Deck or Patio!
Outdoor Fireplace Patio Area & Landscape Lighting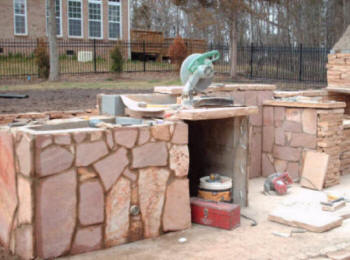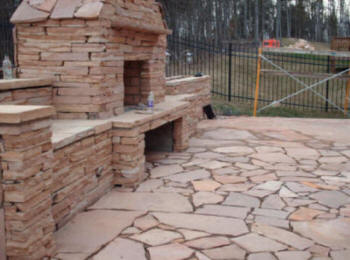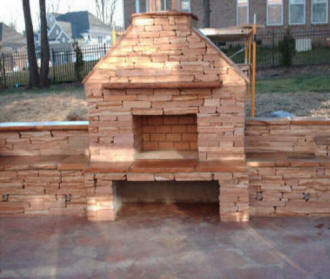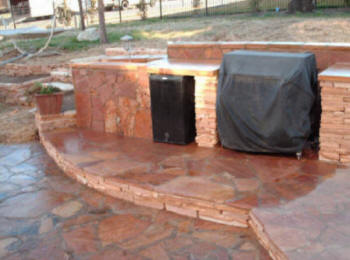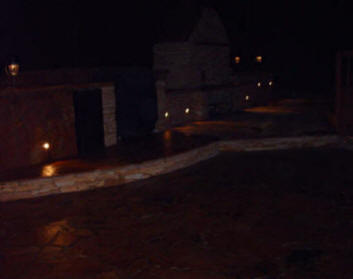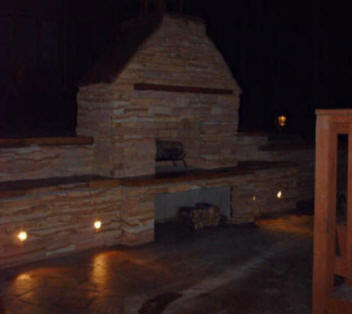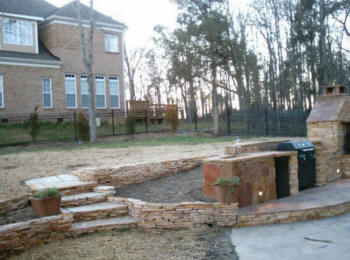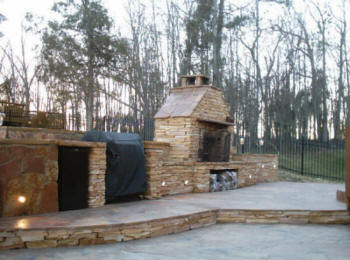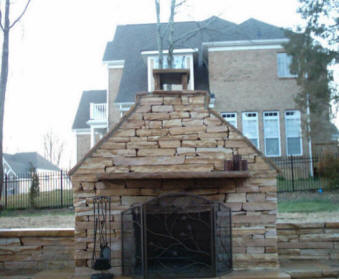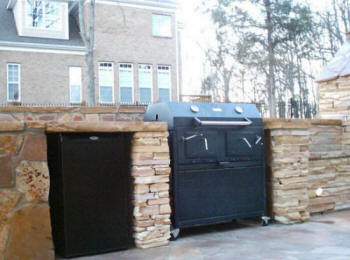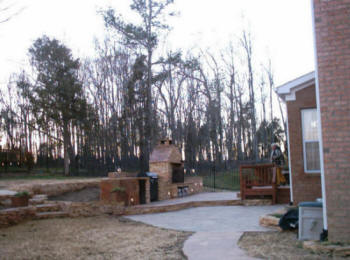 GALLERY
Outdoor Fireplace Designs
The beautiful outdoor fireplace designs have huge craze among people who love their garden and want to spend time there with loved ones. Budget is very crucial when you are deciding the outdoor fireplace designs because according to your spending capacity you can choose the correct material.

If your budget does not permit grandeur then the fire rings or laver can be very well suited. You can also move then to other places according to your need. You can also go for many other unique patterns that won't cost you too much. Choose outdoor fireplace designs with bowl shape that has a single aperture with connections to the chimney.

There are different choices of materials for building the fireplace like stones- natural stones, limestone, marble, or slate; aluminum; cast iron etc. but the most durable material is definitely brick. You will have to choose such a building material for the fireplace such that it does not fade easily or catch rust or corrosion.

It must be capable of withstanding the blazing flames or other weather particles. In order to complete the outdoor fireplace designs you will need fire box, crown, over-mantel, a leg, mantel shelf, header, filler panel and plinth base. Chimeneas, which is Mexican pattern chimney pots, have become very popular.

There are different sizes and colors available for the fireplace depending on the material you choose. Taking professional assistance is always advisable. This will not only ensure good designs but you will get correct tip for positioning the fireplace. The fireplace must be in a safe place away from electric wiring or flammable area.

By employing the professional you can remain assured of perfect service and fulfillment of your demand. Build a shelter for the fireplace because being vulnerable to wind fire can cause accidents so safety measure must be kept in mind while building the fireplace. Looking after the fireplace is very important and for this you have to follow what the manufacturer is suggesting. It is very enjoyable to relax outside if the outdoor fireplace designs are carefully implemented.
Cost Installing a outdoor fireplace in your backyard can be one of the best moves Outside Outdoor Fireplaces Fire Pits Design Build Stone Brick Company Contractors Cos While weatherproof appliances are an important aspect of today's outdoor kitchens, water and weather-proof materials are also an important part of the design. An endless variety of tile can be used on the "floor," backsplash, fireplaces, and countertops. Anything from glass, ceramic, and natural stone are common and create equally unique looks. Most designers find this feature a great opportunity to get creative and produce a true work of art for their clients. Countertop material can vary from natural stone surfaces, like granite and soapstone, to tile, or perhaps integrated stainless steel, all of which can withstand changes in the weather. New way to cook Other imaginative components in outdoor kitchens may include wood burning stoves, fireplaces, wet bars, deck heaters, custom pergolas, a microwave drawer, or commercial style sink sprayers. As people continue to spend more and more time at home with their friends and families, outdoor kitchens offer an entirely new way to cook, eat and entertain. Contractors Design Build Outdoor Fireplace Builders Patio Fire Pits Stone Brick Company Cost. I Need Find Best Local Contractors Design Build Backyard Outdoor Fireplace Builders Patio Fire Pits Stone Brick Company Cost Installing a outdoor fireplace in your backyard can be one of the best moves Outside Outdoor Fireplaces Fire Pits Design Build Stone Brick Company Contractors Cos, The possibilities are endless, so continue to eat, drink and entertain in style. You swim in the pool, relax in the hot tub, entertain friends by cooking on your outdoor grill and dining on the patio. Children spend hours in their special outdoor play areas. Holidays and milestones are celebrated outdoors, and you decorate accordingly. Everything seems just a little more special when it's experienced outdoors.
No matter what the season, spending more time outdoors with friends and family is the best way to spend one's time. An outdoor fireplace is a great conversation starter and centerpiece for any social gathering with an indoor fireplace being a very expensive undertaking since it needs to be retrofitted into the existing building.

The perfect alternative to this are outdoor fireplace Contractors. They are now available in many styles with excellent build quality and design. They have been gaining popularity steadily over the last few years due to a selection of high quality, good-looking and easy-to-assemble Contractors arriving on the market. Many people have decided to replace their expensive custom outdoor fireplaces or simply not buy one in the first place since these are so much more affordable. Outdoor fireplace Contractors allow you to transform an entire outdoor area in one weekend, making it a social and entertainment hub.
Custom outdoor fireplaces have the ability to transform any outdoor area into a warm and serene oasis from busy, everyday life. They remain one of the most popular outdoor accessories to add dimension to an otherwise bleak backyard.

There are many different types and styles of construction for custom outdoor fireplaces and each one has it's own pros and cons. These options let the homeowner have a fireplace built to their exacting requirements, choosing their own materials, design and even collaborate with the fireplace maker, incorporate your own ideas from a few different styles into your custom creation. Or you could choose to purchase one of the many outdoor fireplace kits for a semi-custom look. The choice is yours. The sky is the limit with this so if you want a glass and stone combination, there's no stopping you. Of course, this comes at a cost. A custom fireplace can end up costing significantly more money than a premade one. For inspiration, here are the main styles with their unique attributes listed below:

Brick Firesides: These are one of the most recognizable types of fireplaces and add a warm, rustic charm to any area instantly. They are unbelievably strong and durable and can withstand immense temperatures. These standalone fire structures tend to outlast the houses they adjoin by many years. They are really easy to clean and maintain as well, a true classic.

Stone Hearths: These can be made from a number of different types of stone including marble and granite. They retain heat really well, keeping the whole area warm for longer. They are also very sturdy, long-lasting and add a nice 'old world' feel to an outdoor area.

Glass Fireplace: These are not your average fireplace. They are made from very special heat-treated glass that can withstand very high temperatures without buckling, warping or melting. The sides of the fireplace are glass with the base being made from stone, concrete, steel of some other material. The glass sides add a super modern feel and allow guests to see the fire without any sparks or embers leaping out at them. Although this design looks really good, they are better for indoor use as they don't radiate as much heat as a stone fireplace for example. This might not be much of an issue for you though.

Stainless Steel and Cast Iron: The main benefit of metals is their high temperature tolerance, however, depending on your style preference and house design, it may be the perfect choice aesthetically as well. Custom outdoor fireplaces are the perfect complement to an entertainers' home.
Contractors Build Custom Outdoor Kitchen/Fireplace Builders FREE Quote ➨ Contractor Build Custom Outdoor Kitchens/Fireplaces Builder Patio Fire Pits Stone Brick Company Cost