"Q. How do you offer so many Services?
A. We are a Company of Contractors-Tradesmen & Designers,"
~Fireplace Remodeling Contractors~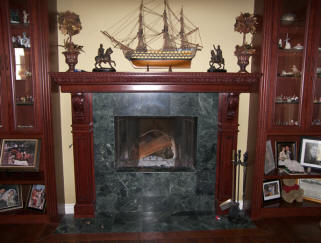 TIPS:
Q: Why is the rock not sticking on the wall?
A:
Dirty rocks - wash them well Rocks too wet - let them dry
Mortar too wet or too dry - use more water or more sand and cement to adjust your mix Not enough cement in the mix - add more cement (add bonding agent) Poor quality stone (too shaley)
Q: Why is the mortar not sticking to a Masonry wall?
A:
You did not use bonding agent to coat the wall, or rough the surface up - coat wall with bonding agent or rough the surface up Dirty or greasy wall - clean it and coat it with bonding agent Mortar too wet or too dry - use more water or more sand and cement to adjust your mix Not enough cement in the mortar - add more cement (add bonding agent) Wall too wet - let it dry
Q: Why doesn't the mortar stick to a wood wall?
A:
Mortar too wet or too dry - use more water or more sand and cement to adjust your mix Not enough cement in the mortar - add more cement Forgot to put on metal lath - put on metal lath
Q: How do I deal with mortar joints?
A:
Mortar joints make all the difference between professional and unprofessional looking stonework. The most important thing is to keep your work neat and clean. It is easy to clean the mortar off the stone while the mortar is still weak. It is a lot of work - if not impossible to get mortar off after it has set up.
Q: What do I do to repair a loose stone?
A:
If the mortar is still solid in the hole, remove the stone and clean it well. Put a good adhesive on the back of the stone as well as in the hole it came out of and re set the stone. You may have to brace it until the adhesive sets.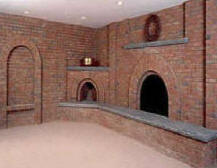 Q: What do I do if the mortar is crumbling or broken up?
A:
Remove any loose stone and mortar, clean the stone well, re-mortar it into place and redo your mortar joints. Use bonding agent in your mortar.
Q: Why is rock falling off the wall after the job is finished?
A:
Stones were disturbed before they had set up. Stones were not tapped into the mortar to create suction. Note enough mortar was put behind the rocks or it was poor mortar. Bonding agent was not used on your Masonry wall. Poor rock that flakes off like mica was used (not our rock!). Dirty rock was used. The building settled and cracked the stonework. The footings were not adequate or settled too muck, (or perhaps a frost heave caused it). The metal lath was not secured well enough. The mortar froze.
Q: Why is the mortar starting to crumble and fall out?
A:
You did not use enough cement in your mortar. You used bad cement. There was dirt in your sand, or you used poor sand. The sand must be sharp and clean. There was salt in your sand The moisture was sucked out of your mortar too fast so it dried too quickly and did not have a chance to cure properly. Bonding agent helps to prevent this. Mortar was used that should have been thrown out. Do not add water to drying out mortar unless you really know what you are doing. Once the chemical reaction has taken place, the mortar could be shot. Your mortar may have frozen.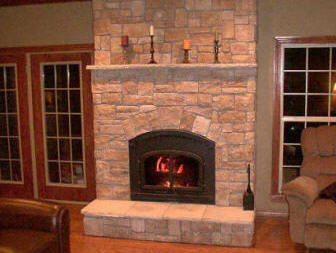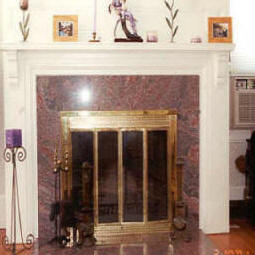 Stone Library
GRANITE Granite is an important structural and decorative stone. It's used for immense structural work due to its high compressive strength and durability. It is the hardest structural stone. Granite's rich colors, stiffness and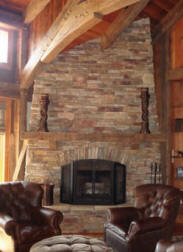 density, make it an ideal choice for flooring, counter tops, vanities as well as exterior applications. Many stylish patterns and colors make granite the most versatile and trendy of all stones.
MARBLE Marble has been valued for thousands of years for its rich palette of beautiful colors and appearance and is perfect, pretty much anywhere in the house. Marble stones consist of limestone that has undergone heat and pressure. A transformation process takes place when the weight of overlying material, pressure from crystal collisions and heat from the earth's core generate temperatures in excess of 1800ºF.Texture of marble depends on the form, size and uniformity of grains.
TRAVERTINE Travertine is generally used for floors, walls, countertops and for outside as cladding and pavement.
Travertine is generally filled with grout before it is honed or polished, which produces a uniform surface more like other marbles. Unfilled travertine is also quite beautiful, and is often seen as exterior surfaces of buildings. Travertine stones result from hot spring water penetrating up through underground limestone.
LIMESTONE The soft limestone stones are ideal for today's more casual and comfortable environments. Generally these soft beiges and tans are suitable for bathrooms, fireplaces, counters and floors. Limestone is a sedimentary rock that is formed at the bottom of lakes and seas, as organic matters settle to the bottom.
SLATE The lively colors and unique texture make slates appropriate for interior as well as exterior applications. Slate is formed of compressed layers of sediments formed under ocean. Since it is formed in layers, it can easily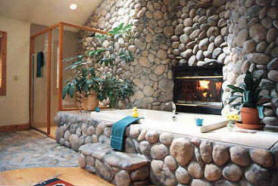 be split to expose beautifully textured surfaces. The usual colors of slates are earthy browns, beiges, yellows, black, dark-grays, and greenish-gray, pinks, purples and copper are also found.
SANDSTONE Sandstone consists of sand covered by silica, iron and lime. Cementing material determines the color of sandstone, iron sandstones are reddish, brownish; carbonaceous, black; siliceous, white and argillaceous, earthy to buff. The hardness of sandstones is important in deciding suitability for applications for sandstone.
QUARTZITE Quartzite stones are the same with slates, but with higher content of quartz in them, which gives them, a bright texture. They are very similar to slates. Like slates, quartzites are used for various applications depending on their hardness.
Providing Free estimate's In-Side Indoor fireplace remodel fireplaces, wood fireplaces, gas stoves, woodstove, wood stoves, direct vent, zero clearance fireplaces, natural gas, propane gas and wood fireplaces, inserts and freestanding stoves, through attention to flame, heat, efficiency, Brick, And Stone.
~Gallery~
Fireplaces1 Fireplaces2 Fireplaces3
Fireplaces4 Fireplaces5 Fireplaces6
A Fireplace Remodel Could Add Thousands Of Dollars To The Value Of Your Home.
We have all seen those homes with roaring fireplaces and beautiful fireplace mantels, drooling with envy, thinking I want one! Getting yourself a new fireplace or better still a fireplace remodel can really accentuate the room its in and make it a focal point of your home and the talk of the town. When thinking about fireplace remodels , there are some factors that you should consider before spending your hard earned cash.

Fireplace Remodel.
The main fireplace designs that you might see are generally square and are usually either gas or electric. There are so many accessories and add ons that you can get for your fireplace, that you will find that you don't have to spend thousands to have that luxury looking mantel warming up your home.

A popular fireplace remodel would be simply to install an electric fireplace especially if you have children and pets and maybe you are concerned about ashes and debris from log burning fires. The wring can be very simple that you just plug it in or you can go for one that is a little more complicated and will need the assistance of an electrician to wire it in.

A more authentic type of fireplace remodel would be to install a wood burning or gas fireplace. No doubt about it, seeing the roaring flames, listening to the crackling of the burning wood and enjoying the natural emanating warmth is definitely an uplifting experience. Making sure you have the necessary guards and protective measures in place for these types of fireplaces is a must, and you must make sure that you get a qualified professional to install your gas fireplace, if you go for one.

Another factor that will effect your fireplace remodel , is where you place it. It maybe that you already have a fireplace installed but its not positioned in the best part of the room, to really bring your home to life. Its not unheard of in the home remodeling world, that a simple adage of a fireplace in the right room in the right place can add to the value of your home when it comes to selling it. So thinking about the position of your fireplace is not a trivial matter.

From amongst some of more popular designs for your fireplace remodel are brick fireplaces with faux wood mantels or exquisite looking fireplaces made from marble and even designs that are made from tiles. The choices available can be overwhelming, so be sure that your fireplace fits in with the decor of your room.
When you are thinking about having a fireplace installed in your home there are various type of fireplaces and materials that can be used. There are numerous materials used to surround and decorate a fireplace and one such concept that is gaining popularity is fireplace tile designs . This very durable material is not only available in appealing designs but will also ensure the strength that is needed for the tile to be heat resistant.

Fireplace Tile Designs
Fireplace tile designs not only look great but can withstand high heat pressure that ensures your tile wont melt as well as allowing the fire to grow hot without working the flames to a higher level.

There are many decorative fireplace tile designs to choose from on the market, you just have to make sure you select one that compliments the decor of your room. One clear advantage of a tile fireplace is that you can clean the fireplace almost effortlessly. This efficient cleaning process will make sure that your fireplace does not become clogged.

If you are considering fireplace tile designs you should have an idea of what sort of look you are aiming for. The tile fireplace surround will add warmth and some interesting textures to the outside of your fireplace. You can choose from a variety of tiles to create a design that will bring all the focus to either the tiles themselves or to the fireplace.

From the many fireplace tiles available, ceramic tiles are an excellent choice . They are available in many different shades and are treated at high heat levels to protect them against the roaring heat emitting from your fireplace.

An interesting option you can go for is to fireplace tile designs on the back wallof your fireplace. As the flames are burning you will see an interesting effect dancing on the back fireplace wall. Your ordinary fireplace can become an object of beauty and envy by the use of a tile fireplace surround.
The first step in the creation of fireplaces is the design. Your fireplace ideas and design will generally be ones that will have been heavily influenced by age old designs and will stick to certain known design patterns.

These fireplace design ideas follow various safety factors that will ensure that the fireplace will not cause the location house, apartment, manor house, mansion and so on to catch fire through a faulty design construction. So the first thing that needs to be considered is where the fireplace will be situated. The next item that is needed for your fireplace ideas and design to work out is how will you getting rid of the fumes that a roaring fire can create.

From the many different fireplace ideas and design you can choose from, you should consider where it will in the room and see what else will be surrounding it. Many of us may prefer the idea of a fireplace being the focal point of a room, so it will need to be large, decorated quite tastefully and it will sit in the middle section of one wall face. Whereas if you like the idea of a corner fireplace, then likewise the surrounding decor needs to be examined and the space you have around it.

For this particular design of fireplace, you will need to take some extra considerations into thought. Your corner fireplace will need to be fitted in a triangular design, so you will need to hire an experienced fireplace builder who will have the relevant experience to deal with a tricky installation like this.

Once the position of your fireplace has been chosen you are ready to delve into the many fireplace ideas and design choices that will mainly revolve around the type of material you will cover the walls of the fireplace with. Some of the more popular materials are marble, tiles, brick, limestone and stone are known to be used.

The many fireplace ideas and design concepts available for you to use will leave your head in a spin and you will probably want them all. If you stay focused on the look you want whether, contemporary, classic or post modern you will be able to make the best choice and get the fireplace design to fit your needs exactly. Remember it will be a part of your home just like any other decorative ornament, so taking your existing decor into account is a must. Browse through the selected links we have provided for you to find the design of your choice and get the fireplace of your dreams.
Local Gas Fireplace Installation/Repair Convert Call ☎ Today! (Amazing Prices) Local Remodel Fireplace Contractors Tile Overlay Stone Local Fireplace Marble Hearth Mantle Local fireplace Renovation