"Q. How do you offer so many Services?
A. We are a Company of Contractors-Tradesmen & Designers,"
~Fireplace Contractors~
Keep in mind that the fireplace will be the focal point of the room, so decide clearly on the design style you're looking for the entire space. You'll want everything to work together cohesively, from wall color to furniture to accents pieces.
Available with catalytic converters
Some models extend onto the hearth while others stay flush with the front of the fireplace. Most have tight-fitting glass or metal doors and built-in circulation features. The most efficient models supply combustion air from outside the house, and virtually all inserts are controlled-draft units with manually or thermostatically controlled air inlets. Some units are also available with catalytic converters for improved efficiency.
Glass doors, heat exchangers, dampers and flue sealers can also up the energy efficiency of an existing fireplace, but don't expect too much. According to the Department of Energy, those devices combined could only improve efficiency by some 10%.
Before After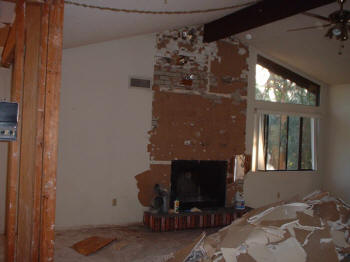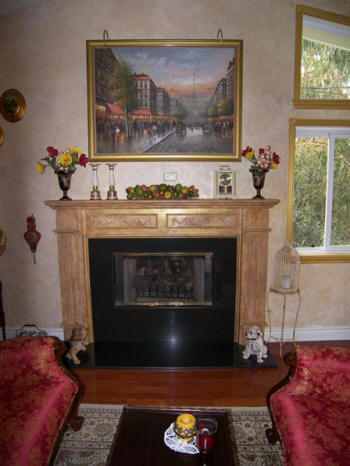 Custom fireplaces
Fireplaces can be customized with a variety of options
For instance, gas fireplaces feature three different kinds of logs: vented logs that provide a realistic burning wood look with less heat; ventless logs, which produce a yellow flame with a high degree of efficiency; and partially vented logs which provide a middle ground option in warmth, appearance and efficiency. Other options for fireplaces can include a matching tile hearth, a gleaming brass tool set, etched glass face or even a remote control for couch potato fire starters.
New Masonry Stone/Fireplace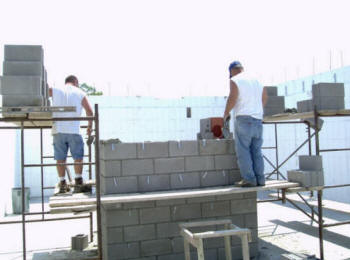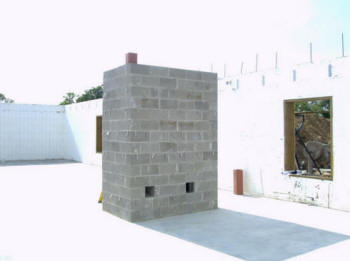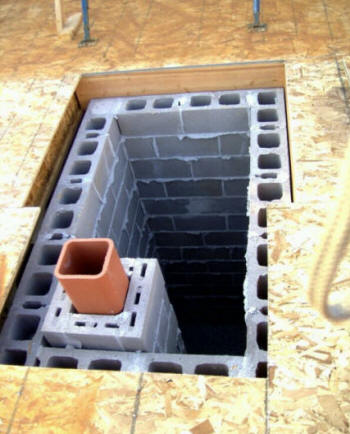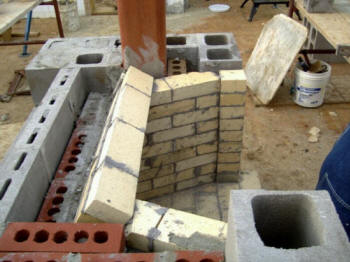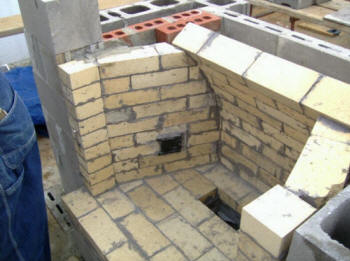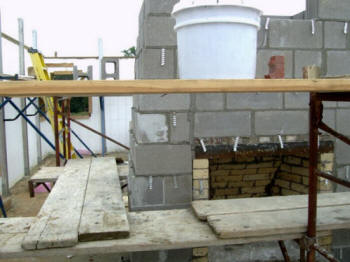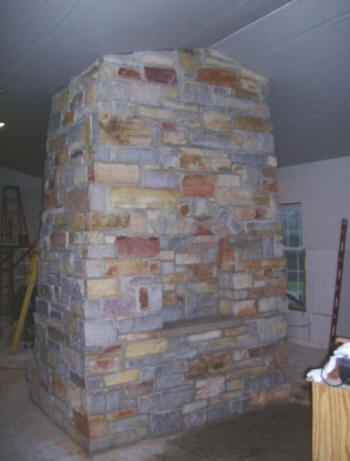 ~Gallery~
Fireplaces1 Fireplaces2 Fireplaces3
Fireplaces4 Fireplaces5 Fireplaces6
A home's fireplace, whether working or not, makes a beautiful and dramatic focal point of a room. But when the fireplace is ugly, dated, and in disrepair it will pull your room down. The good news is that fireplace remodeling can be done and the results will not only give you the room you want but also increase your home's value. Whether you're going to do the remodeling yourself or just want to be hands-on picking the design elements, here's what you should consider: A fireplace has a very good impact on the way your house looks like because most of the fireplaces are fixed in the middle of the living room. So if one shifted to a house that has a fireplace brick one has to give it the care and attention that is needed treat the place well and clean the place after use this is to avoid some wrap and crumble.
Today there are basically two types of mantels, the mantel shelf and the surround mantel. Wood surround kits come in many choices of woods and styles. You can choose a very rustic style used in log cabins and country homes or a contemporary design in newer homes. The wood is available in cherry, maple, poplar, maple and oak. You can easily paint or stain poplar wood to match or contrast with your walls.

The mantel shelf consists of a shelf made of carved wood or veneer for a more modern home. A rustic piece of hewn wood or log is appropriate for a log cabin or a country-style home. Wood mantels are built using oak, alder, birch, maple, hemlock, pine, walnut, poplar, Douglas fir, or Choi, an Asian hardwood.

Woods can be left in their natural colors or stained or painted to match the décor. They are almost always carved with either intricate designs or with simpler, elegant lines. Mantels are also made from gypsum or cast stone. These materials are more expensive than wood but are made to last for the lifetime of the home and beyond.
Fireplace surrounds are deliberately planned to be the focal point in a room. Your fireplace area may have been perfect in color and style when your home was first built, but you'd like to replace it now to suit your taste and décor. There are several types of surrounds to choose from, which can cause more confusion than having just a few choices. This article narrows your choices down to just two types to consider.
The surround mantel frames the fireplace on three sides. The surrounds on both sides of the fireplace extend from the fireplace floor, or hearth, upward to the shelf. The surrounds are usually made of the same material as the mantel.

Other stones used in the surrounds and mantel are sandstone, limestone, and travertine. Mantels and surrounds made of stone have the benefit of protecting the area with fire-resistant materials. A natural stone surround kit is a wonderful choice for several reasons:

• Currently, one of the most popular choices for upgrading a fireplace
• The most versatile replacement kit because it works equally well in traditional and contemporary homes.
• Is so unique that no two surround kits are exactly the same
• Lasts for many years with little to no maintenance
• Available in a wide variety of textures and colors
• One of the safest materials to use because it's nonflammable; approved by most building codes; safe to use with vent-free fireplaces

Natural stone surround kits are available in marble and granite. Other products in the marble category are limestone, onyx and travertine. Remodeling a fireplace cannot be done on the fireplace alone it can be done also on the surrounding area. Upgrading and replacing can be in many levels it will depend on which level one will find more attractive and appealing. One can hire a customized contractor who knows basically what needs to be done and he may want to decide to use marble stones just do add more value to the fireplace and make the surroundings look more expensive. The contractor can also decide on how he can improve the surroundings by adding wall scones on each side on your fireplace. And this will create a very good and romantic atmosphere in the living room or the den.

Fireplace remodeling may cost roughly $150 that is when doing it without involving a contractor and when doing it alone it so cheap. Remodeling of fireplaces one does not need to update the whole fireplace, because you will change it again with time, each and every time a new designs comes so it is advisable to change only some few parts like the mantel and one can only paint the fireplace.
Mantels and fireplaces still serve as a focal point in a room. Many people buy a new home because of the fireplace, but never use it to light a fire. Here is where beautiful art and other favorite objects and family pictures are displayed for all to see and enjoy.

If you celebrate Christmas, the fireplace is a traditional area to make a festive display of Christmas decorations. Christmas stockings are still hung over the fireplace. Christmas angels, music boxes, Nutcrackers and Santa oversee the festivities from the mantel.

Fireplace mantels may have changed their styles over the centuries, but homeowners today love and enjoy their fireplaces even though they may never light a fire.
I Need Find Best Local Near Me Brick and Stone Masonry Fireplace Builders Contractors. ☎ FREE Quote (Low Cost) Keep in mind that the fireplace will be the focal point of the room, so decide clearly on the design style you're looking for the entire space. You'll want everything to work together cohesively, from wall color to furniture to accents pieces.
Fireplace Builders Painters