Build Your Own Pergola - Do it yourself Pre-built pergola Kit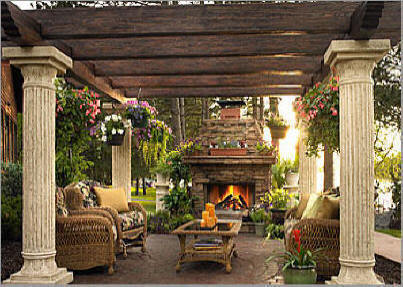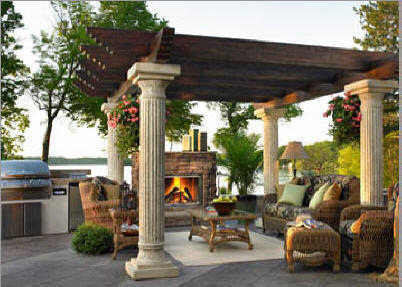 Build Your Own Pergola
A Pergola kit from Pacific Living, Inc. can come in many sizes and shapes. Style of a pergola kit, attached to the home or not, should be complimentary and true to the style of the home. Our pergola kits are designed to compliment a variety of styles and tastes.
New! 10' x 12' Revolutionary Tuscan Pergola Feast your eyes and open your mind. This unbelievable new pergola is a breakthrough like no other. Made from a patented concrete blend, the columns and beams are lightweight, yet weather-resistant, able to stand the test of time. Ease of installation is unparalleled! Simply cement posts into the ground and slide the columns in!
| | | | | |
| --- | --- | --- | --- | --- |
| Qty. | Description | Height | Width | Length |
| 4 | Columns, Antique White | 7' | 10" diameter | n/a |
| 2 | Support Beams, walnut wood grain | 4" | 8" | 12' |
| 5 | Cross Beeams, walnut wood grain | 4" | 8" | 10' |
| 4 | Treated wood posts | 8' | 4" | 4" |
We'll Make it the Way You Want it!

We do Custom Orders, too!

Nothing on the market compares to the design of our New Tuscan pergola. It is made from the same time-tested material that is used in columns and decorative trim on apartments, homes and million-dollar resorts across the country!

Whether you already have outside flooring such as concrete, stone or brick pavers, the process is simple, smart and easy. Simply cut out the small area for each of the columns' wooden support beam, dig a post hole with enough space to submerge and cement the beam two feet below ground level, and cement the posts in. Once you've done this, the hardest part is over!

Next, slide the columns into place, fit the beams into the interlocking slots, and use the included hardware to fasten them securely into place.

Enjoy your new outdoor room for generations to come!

View Installation Instructions here.

Ready for another exciting new option? Our Delta Square Pergola not only boasts a stunning, unique design, but is made stronger than the competition, with concrete composite columns and steel-reinforced, fiberglass beams.

Delta Square Pergola Retail Price: $4995.95

Delta Square Pergola Sale Price: $3995.95


Custom Pergolas We understand that our models may not fit your yard exactly, or you may have something grander in mind. Don't hesitate to email or call and we'll be happy to discuss options. Why pay upwards of $25,000 for a custom built pergola when you can pay much less with Pacific Living?

FREE ESTIMATE - No obligation. We want you to feel free to dream. We'll dream with you and help you create an addition to your home, your yard that will please, astound, enchant or strike with awe any and all visitors that come your way! That's what we're here for.
New! Rustic Pergola 10' x 12'

With the look of real wood all the way around and no sealing or maintenance required, you win all the way around! Our Rustic Pergola is made from the same patented concrete composite material as our Tuscan pergola and goes together just as easily. It's just a matter of preference and taste, and for those who enjoy this style, you'll be glad you chose this one!

And, the price is unbeatable!

Rustic Pergola Retail Price: $5495.95





Rustic Pergola Sale Price: $4995.95




What are your Pergolas made from?

Our New Tuscan pergolas are made from a patented mixture that gives it the lightweight quality for ease of installation, yet allows them to be patched easily and withstand the test of weather and time for generations to come.

What makes your fireplaces unique?

They are made from a composite concrete and fiberglass mixture that is much stronger and lighter than concrete.
They have an aged look and sandy texture that gives the unit an old world charm.
They are 6 feet tall and under which allows them to be classified as "outdoor grills" and avoids building and code restrictions. Local codes should always be checked, however.
They are a do-it-yourself item that two to four strong people can assemble. They are built with an interlocking design and do not require the use of deteriorating glues or mortar to assemble. You get a custom look and quality for a very affordable price!

What are the clearances?

The top shop should be 5 feet from combustible materials
The front should be kept clear of people and all combustible materials by a distance of at least 2 feet.
Side and back should be 1 feet from combustible materials

What are other safety considerations?

Do not place unit under roof overhang or other combustible materials such as patio covers or pergolas.
Do not place unit within 7 feet of windows.
Place unit on solid, level ground, preferably level stone or concrete. Flooring must be non-combustible—cannot be asphalt or black top.

What are the dimensions of your fireplaces?

Mid-size fireplace = 32" W x 28" D x 62" H; Firebox dimensions = 29" W (17.3" W opening) x 19.3" D x 35.4"H (19.3" from base to mid-point of firebox archway)
Premium fireplace = 42" W x 28" D x 72" H; Firebox dimensions = 39.4" W (17.3" W opening) x 19.3" D x 37.4"H (26.8" from base to mid-point of firebox archway)

Can the fireplace withstand rain, heat and extreme cold?

Yes, these fireplaces are designed to be used outdoors and withstand all of the elements. The concrete will in fact grow stronger with more moisture and time as it continues to cure in the years to come.

How can the fireplace withstand the heat of burning wood?

The design of the firebox allows for the right amount of airflow so that the fireplace can be used to burn wood. No metal firebox is needed, only the proper installation of the included brick liner and base pieces.

What does the back side of the fireplace look like?

The back side of these fireplaces is not flat, but continues the beveled look and trim of the front and sides.

If you drill a hole to add a gas line, will this void the warranty?

Yes, this will void the warranty as these units are made for wood-burning.

Will the fireplace work with a gas log set?

The fireplaces can withstand the heat of natural or propane gas log sets.

CLICK HERE

FOR FIREPLACE
About Pacific Living, Inc.

Who We Are
Pacific Living, Inc. is a family-owned and operated business located in Irvine, CA. We have been in the heating and import business for nearly 30 years, now, so we're able to provide outdoor living products that not only give you the best deal for your money, but are quality-made, dependable and live up to their promise of long-lasting enjoyment. Our products are easily shipped and easy to install, so online ordering is a great way to go! If you prefer to see our products in person, feel free to call us at 24x7 TOLL FREE 1-866-643-8662.

Our Mission
We cherish the time we get to spend as a family, and so we're dedicated to helping you make your home and family living areas a special place for you to create memories that will last a lifetime.
Please feel free to contact us with any questions or concerns. Thank you and God bless!

Jim Kupanoff

President, Pacific Living, Inc.