"Q. How do you offer so many Services?
A. We are a Company of Contractors-Tradesmen & Designers,"
~Lucrative investment~
Your home is more than a place to live; it can be a lucrative investment. Whether you've owned it for a number of years, or recently purchased an older property, putting money into renovations and upgrades can significantly increase its value. What's more, updating your home is likely to make it more appealing to a wider range of buyers and therefore make it easier to sell. However, it's important to note that not every renovation pays back so handsomely. Very trendy or low-quality finishes can turn off potential buyers. We can remodel your home and add a first floor addition. Adding space adds value to your home. Master Bedrooms and Baths Whether you need a master bedroom, more bedrooms or baths, a in-law suite, a master bath and walk-in closet or a deluxe master retreat....2021 Family Rooms, Living Rooms, Great Rooms, Recreation Rooms, Home Offices or Dens. Ceramic also can be easily cut, used as a and is scartch resistant. Engineered Hardwood is another great alternative as it's scratch resistant and offers a 50-year residential warranty. These dwellings can be two-to-three stories with low slopped roofs. With stone and brick foundations, they blend in brilliantly with the natural landscape. Older Prairie homes have small porches, but many of the contemporary Prairie Homes, commonly have large porches.
~Before and After 1~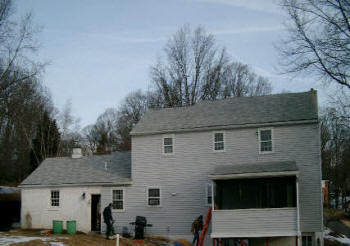 ~Before and After 2~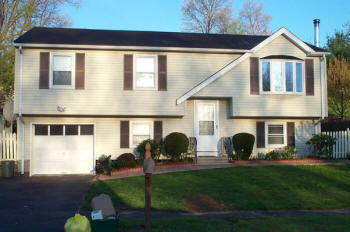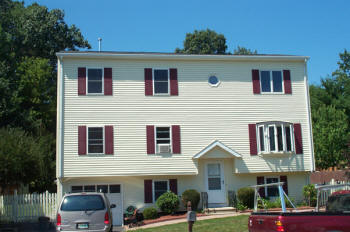 ~2 Story Addition and Remodel~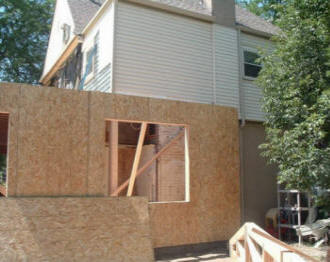 We understand that your end investment is very important, but we do urge you to hire a licensed professional not just a price. Anytime you increase space that's centrally heated and air conditioned, you increase the per-square-foot value of the house. Homeowners typically add a family room when their family has grown or because they're dissatisfied with the configuration or size of their first-floor layout. The room added to the house should help in enhancing the resale value of the house. Therefore, make sure not to go for professionals who do not provide proper room addition services. Poorly constructed Room Additions generally ruin the look of the house and even the neighborhood.

ADDITIONS & REMODEL GALLERY
Many a times it happens that you feel that your house or some of the rooms in the house are getting smaller. If this is the case then it is necessary for you to go for Room Additions that can help in increasing the space in a room. If you are not aware of the basics that need to be kept in mind when carrying out this project, you might end up spending more money. Building an extra room is a kind of investment that you are making in your house. The room addition can probably be the addition of a family room or a kind of bonus room.
The purpose of room addition helps in determining the type of plan needed for the room addition. There are some families who are in need of extra bedrooms because of the increase in family members while there are other families that need extra room. The most popular room addition that is presently preferred by most families is additional bathroom and even a kitchen for the expandingfamily. Room Additions serve as one of the greatest methods of freshening up and changing the layout of a house. These also serve as the greatest methods of increasing the value and square footage of a house and making a seemingly ordinary floor plan outstanding and amazing. At the same time, you are not living in the building which cause extra effort to be put in on the part of the homeowner and the professional hired for the job. Some of the most important factors that need to be considered when going for room addition are as follows. FREE Quote Call NOW Home Addition Contractors Family Bonus Room Addition Cost In-Law Add-ON Floor Wing Builders. Local Home Addition Contractors Find Local Home Addition Contractors Family Bonus Room Addition Cost I Need Find Best Local Contractors Build & Finish Unfinished Home Bonus Room Addition Cost In-Law Add-On Floor Wing Builders Company Home Room Addition Add-ON-In-law Additions Kitchen Extension Bedroom Additions Family Rooms Bonus Room Above Garage Additions In-law Additions. most experienced house addition contractors in minutes.   Licensed Room Addition & Building Contractors Home DP and Associates works with the best licensed house addition companies. Get free project bids in minutes. MULTIPLE ROOM ADDITION PROJECTS Adding multiple rooms to home. Manage multiple room additions, Design & Build, Home Addition Experts. Home Addition Companies For 1+ Addition Projects 3 Free Quotes Experienced with home addition projects for multiple rooms. Design & Build, Bedrooms, Bathrooms, Garages, Living Space, Required building permits. REQUEST A QUOTE Free Written Estimates, Required Permits, Licensed Contractors ROOM ADDITION PROJECTS Top Rated Local Room Addition Experience House Additions, Design and build. Build Custom Room Additions. ROOM ADDITION CONTRACTORS (3 FREE QUOTES) Local residential room addition companies with expertise adding rooms to existing house. Help with building codes, local permits, custom design and build all types of room addition projects. REQUEST A QUOTE Free Written Estimates, Required Permits, Licensed Contractors HOME ADDITION & EXTENSIONS Top Home Additions & Extensions Extend existing rooms, Add, Build New Additions. Home Construction Companies For Additions & Extensions (3 Free Quotes) Local addition contractors for all major renovation and addition projects for the home. Help with building codes, local permits, custom design and build. REQUEST A QUOTE Free Written Estimates, Required Permits, Licensed Contractors BATHROOM ADDITION PROJECTS Adding bathroom to existing home Extend existing bathroom, Build new bath addition. Bathroom Addition Contractors (3 Free Quotes) Local bathroom addition contractors to add new bathroom. Custom design and build. REQUEST A QUOTE Free Written Estimates, Required Permits, Licensed Contractors BEDROOM ADDITION PROJECTS Adding bedroom to existing home Extend existing Bedroom, Add additional bedroom to home. Bedroom Addition Contractors (3 Free Quotes) Residential bedroom addition contractors. Add additional bedrooms, Custom design and build. Master, Guest, or Custom. This is one of the most important tips that you need to follow when going for a room addition in your house. Here, it is necessary for you to consider the fact that everything cannot be done at the same time and you will not be able to handle all the things yourself. Therefore, it is essential to take the services of a professional company when planning a room addition. All the different costs need to be added together along with inspection costs of the room addition which will vary from one place to another. If you are really bent on getting a room added in your house then it is necessary that you take professional help. Make sure that you are doing business with professional contractors who are skilled at delivering the claims that they make and always stick to their deadlines. This is because while the extra room is added to your property, you will be living there and be the victim of distractions, noise and dust. Thus, you want the work to be completed as soon as possible.
It can be a challenge for different homeowners to plan a room addition in their homes. It is necessary for homeowners to remain aware of the layout of their house prior to deciding the right location for adding the extra space. House layout is one of the most important and the determining factors in deciding on the location of the room addition. It is also necessary for the homeowners to be concerned about square footage. A homeowner must determine the square footage needed to be added to the house for making the most effective use of the extra space.
Once you are done with your budget and the money that you will be spending on the intended room addition, it is time for you to come up with a sketch. Therefore, make sure not to go for professionals who do not provide proper room addition services. Poorly constructed Room Additions generally ruin the look of the house and even the neighborhood. Find A City Near You Free Written Estimates, Required Permits, Licensed Contractors Common Addition to home dimensions and sizes include: 12 x 12 addition, 26 x 28, 10 x 16, 2 story, 20 x 20, 40 x 40, 20 x 24,Need more room? We can extend the living area of your existing home by adding a new wing or home addition. Or Mother-in Law suites, Family room, Master Bedroom, We're experts at building and designing large or mall additions and dormers to your existing home. Enhancing the beauty and function of your home is paramount to the satisfaction and enjoyment you experience every day in your newly remodeled home. 16 x 24, 22 x 22, 10 x 20, 24 x 15, 27 x 20, 10 x 40, 20 x 26, 9 x 12, 30 x 30, 20 x 12 Home Addition Contractors Can Help Spice Up Your Home Owning a home is simply the American dream for most people. This is the place where we as a people spend the majority of our time. It provides comfort, safety and entertainment, but what if you want to add some spice to your homefront? Do you know where to start or what you are doing? Maybe you have a specific idea in mind, but you just don't know how to make it a reality. Fortunately, you're in luck, this page is designed to provide beneficial tips, tricks and ideas to get the ball rolling. The U.S. is a pretty big sized country that's sort of divided into sections such as the North, South, East and West. From this point, the country is further split into (sub-sections) such as the Northeast, Southeast, Midwest, Pacific Northwest or Southwest. Each region has its own personal style of living, and the homes of these regions are a direct reflection of the people who influence the architecture. Architecture, Style & Influence in American Homes Before we get into greater detail, homes in each region are designed and built to handle that specific area's climate. The weather plays a critical role in home building and renovation. Homes in the Northern states that have flat roofing surfaces isn't ideal because of heavy snow accumulations. On the other hand, Southern beach houses that are built off ground level, don't have to worry about flooding during tropical storms. Always consider the climate in your area before making extensive changes to the home's structure. Let's check out some of the more popular homes of each area, and what can be done to make these dwellings even better. Traditional Style Homes In The Midwest Midwest: This area of the country has wide open spaces and rich architectural tapestry. The region is known for its wide range of home designs and architecture. This includes Prairie, Craftsman, Ranch and Traditional. These dwellings generally have neutral colors and are built with plenty of natural materials, which is a reflection of the environment. Traditional Homes are fairly common here as they display comfortable living from historical American style. Many of the homes are encased in either bay\/bow\/box windows and posses vaulted ceilings or huge fire places. Large interior living spaces works great for family living and the homes have plenty of bedrooms. Big country style kitchens are present, which connects with a dining\/nook area. >> Compare Multiple Home Addition Quotes Now >> Home Renovations For A Modern Look Traditional and Ranch Homes have an abundance of free space thanks to their size. These homes generally have a lot of hardwood flooring. Just by changing the hardwood, the home can create a fresh new look. Hardwood options can include: Oak Harvest | Hand Scraped Hickory | Red Oak | Artificial Wood Laminate Want to take it a step further? Tile is the weapon of choice. Thanks it's durability, versatility and appearance, tile can transform bathrooms and kitchens into a work of art. For Traditional Home Addition Project, try removing the hardwood and replacing it with tile. Natural Stone has a shiny, mirror-like finish, which is great fro bathrooms and walls. This includes granite, slate, travertine, or marble. Porcelain is great for heavy traffic areas, and it emulates a natural stone, brick or wood finish. Ceramic is a cheaper alternative, but provides a gorgeous look. Looking to add significant living space?? Our years of experience specializing in major home additions makes us a safe, logical choice. Thanks to the large brick columns, back porches can be turned into terraces. An enclosed terrace with walls can be transformed into a home gym or game room, with or without windows. The options are nearly endless. Home Styles In The Southeast Southeast: The Southeastern United States has some of the finest house designs of any region. These homes are about as eclectic as the unpredictable weather, which forces contractors to build homes that are practical, yet luxurious. Mid-Century, Cottage, Ranch, Traditional, Beach houses and more, personifies Southern living. English Cottage Homes are very pleasing to the eye as they offer a mixture of exterior stone and brick. Emphasis is based on framed bay windows and shed dormers, Room additions can add square footage and value to your existing home, without the additional expenses incurred in the purchase of a new home. This is especially attractive to growing families. Other popular room additions include increasing floor space by adding a second story room to your existing home, sometimes called a "pop-top." This can increase the value, functionality, and comfort of your home, without robbing you of lawn or garden footage.
Contractors Build Add ON 1/2 Story Addition FREE Quote ➨ Build Add ON 1/2 Story Addition Bedroom Family Bonus Room Cost