"Q. How do you offer so many Services?
A. We are a Company of Contractors-Tradesmen & Designers,"
Deck Pricing, Cost Estimates and Research
Building an outdoor deck is one of the simplest ways for homeowners to expand their living space and add visual appeal to their landscape. Outdoor decks do not require electrical or plumbing installations and you are spared the hassle of working with lighting, windows and other components that a full addition would require. It is true that constructing an outdoor deck can be simple; however, it still requires you to put careful planning into it. As with any home improvement project, the more you put into the planning and preparation, the more you will get out of it. Keep in mind that a qualified professional in your area can help make sure that you are considering every step of the deck planning process.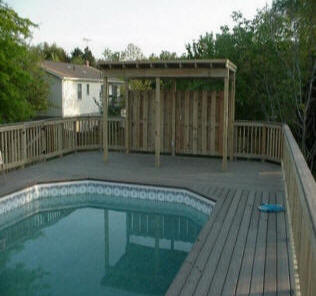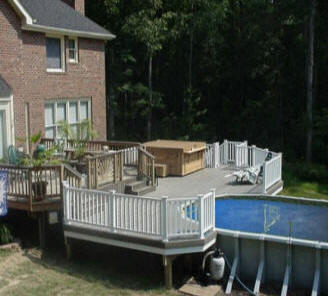 Determining The Size Of Your New Deck
In order to save yourself money and ensure an effective construction, it is best that you plan your deck dimensions. By doing this you will be using standard board lengths and reducing the amount of wasted wood. Make sure that when it comes to materials, you are only purchasing and using what you need. The location of your deck is crucial. Consider where the sun will reach your deck, where the shade will reach your deck, where you will get easy access, and where you will get the best view. Also, think about air movement. Often a wrap around deck can increase the level of air circulation, making your deck experience a more enjoyable one.
Durability Think carefully about what material to build you deck out of. You can spend less money on materials such as Fir and Pine, but expect to need a replacement within 10 years. High end materials, such as Cedar and Redwood, may cost more, but they will offer you more durability and a longer lifespan. You can also choose between aluminum decks, concrete decks, and composite decks. The design of your deck incorporates several elements. You need to consider privacy, landscape, and architectural appeal. Choose between an octagonal, a free-standing, a multilevel deck, or maybe even a pool deck design. You can choose between a warm classic look and a sleek modern appeal. Be as crafty as you can with your new deck because it is just as important as your kitchen or family room.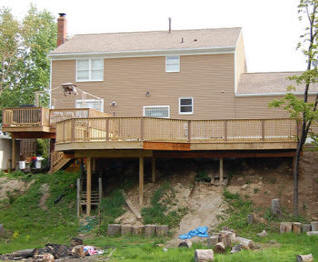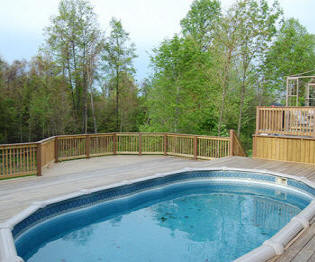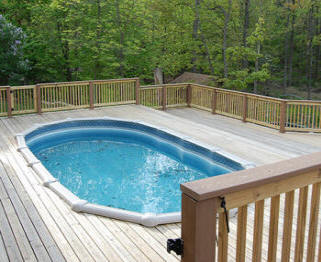 Decking Materials The quality or grade of your decking material ultimately determines the success or failure of your structure. Using a high end decking material will offer you the best results. High end materials include cedar, redwood, mahogany, ironwood, and certain composite decking materials.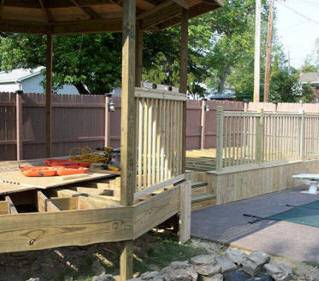 When selecting your high end material it is important to consider the cost, availability of the product, shipping cost, and maintenance costs. It is best that you take these figures and compare them to the amount of money it will cost you to use non-high end materials (pine or fir) that will need replacement in 10 years. Most likely, you will see that it is worth the additional costs for high end materials because they will last for longer periods of time. If you do decide to go with a high end material for your decking construction, pay special attention to the grade of wood.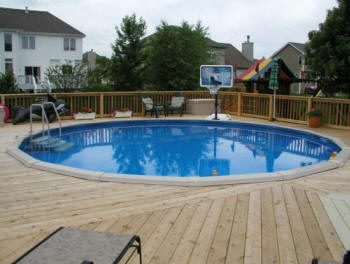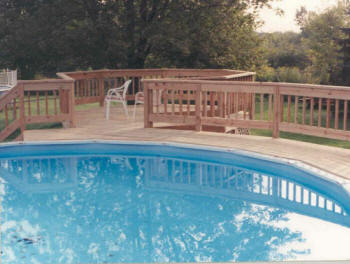 DECK GALLERY
POOL DECK DESIGNS
Decorative pool decks are currently a very popular item. A lot can be done with a pool deck! Originally designed to help keep pools clean and avoid slips, there is now much more that it can be used for. It can be made into a very large area around the pool, or even connecting it to the house.
There can be space for tables and chairs, sunbathing, barbecuing, etc. Start out by choosing the materials you will use to build your deck; they should match the structure of your house, especially if they will be visible from the street. You should also take into account weather conditions and the effects they will have on the deck. One very popular material in deck building is concrete, particularly because pricing is very attractive.
A lot can be done with concrete, paving stones and rocks can be added – and various designs can be achieved. Pool decks can also be made of brick; this will look particularly good if built for a brick house. Ceramic tiles can also be used to make a pool deck, they can be of different sizes or even mosaics can be used, different floor patterns can be designed using ceramic tiles.
There are also the classical wooden decks, although they tend to require a lot in terms of maintenance and repairs. Another option to choose when building a pool deck depends on what kind of pool you have or plan to install. There are on ground decks, which are built on the surface of the ground and the pool edge is slightly above ground level.
Above ground decks are often built on stilts and are usually wooden. In ground decks generally provide the most versatility, much more can usually be done with an in ground deck, they also tend to be the largest and would be the best option if there is lots of space available and you want a large deck. Build Decks Around Above Ground Pool Deck Builder (Amazing Prices) ☎ FREE Quote! We Can Design & Construct ANY kind of Deck You Want. Remodel Repair Treated, Cedar, Redwood, Pine, Timber Tech, Azek Evergrain Free Quote large or small. Pool Deck Builders Start by calling us today!
Pool Decks Builders/Remodel FREE Quote ➨ Pool Decks Board Replace Pool Deck Contractors Build Above Ground Pool Deck Repair Build Pool Deck Steps Railing