"Q. How do you offer so many Services?
A. We are a Company of Contractors-Tradesmen & Designers,"
~Deck Refinishing~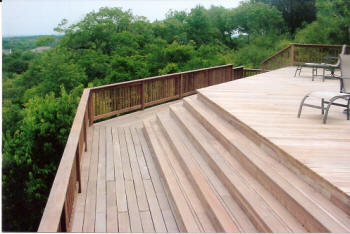 Step by step
Below is a list of materials we commonly use for our deck construction. Prices will vary depending on the type of materials you choose.
Wood
Outdoor Wood - Chemically treated wood that resists insects and decay.
Cedar - Naturally resistant to insects and decay, a fairly soft wood.
Redwood -Harder than Cedar but still considered a soft wood, Redwood is more resistant to insects and decay than Cedar.
Iron Wood -Also known as Teak, lpe' or Mahogany, Iron Wood is extremely hard and very resistant to insects and decay.
Composites ·
Trex - www.trex.com Trex decking and railing products are made from a unique combination of reclaimed wood and plastic, giving you the best qualities of both materials.
Mikron - www.mikronvinyl.com Mikronwood decking is formulated to be work-saved, shaped and fastened almost exactly like real wood but without the knots and cracks. Mikronwood, the beauty of real wood without the imperfections.
GeoDeck - www.geodeck.com GeoDeck™ is a state-of-the-art system that consists of matching boards, railings, posts, balusters, end caps, fascia board, post caps, post base trim, and hand rail collars—everything necessary to create an attractive deck.
ChoiceDek - www.choicedek.com ChoiceDek comes with a manufacturer's warranty for residential use from Advanced Environmental Recycling Technologies, Inc. (A.E.R.T.), which is twice as long as most composite decking materials. Its patented process encapsulates wood fiber in plastic making it resistant to rot and insects. This makes ChoiceDek a favorite building material for decks, docks, piers, marinas and other walkway surfaces. And ChoiceDek is made from recycled wood and recycled plastic so it's an excellent choice for the environment.
EZ Deck - www.ezdeck.com In order to maintain the original appearance of wood on a deck, it must be maintained by painting or staining. Even with this diligent care, insects or the elements take their toll and it is not long before replacement is necessary. EZ Deck boards are made with a fiberglass reinforced composite that is specifically designed for decks. These components provide a very stable product which is nearly impervious to the forces of nature and able to withstand the demands of a deck surface.
Use wood for structural support Real wood must be used for the structural support of your deck.
Pressure-treated wood is the strongest. Synthetic materials don't have the strength or flexibility needed for structural support. When designing your deck, keep in mind that naturally rot-resistant wood can be used in combination with treated or synthetic lumber. Treated lumber is generally cheapest and synthetic lumber the most expensive of the three types of building material.
~Replaced Another Old Deck~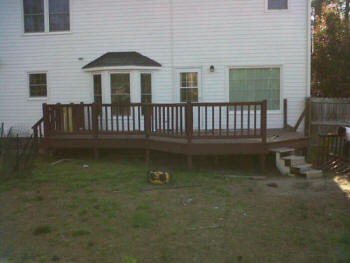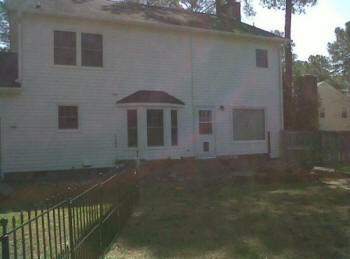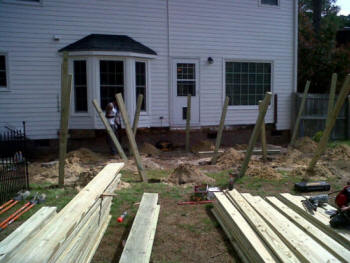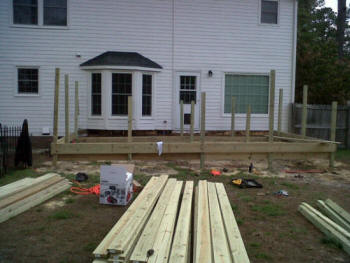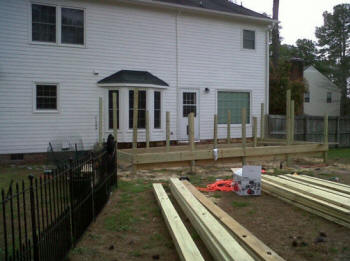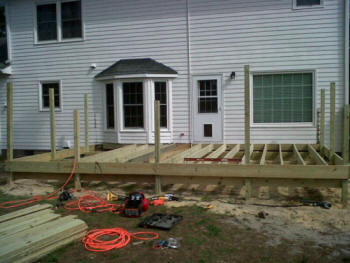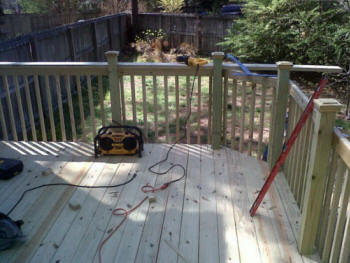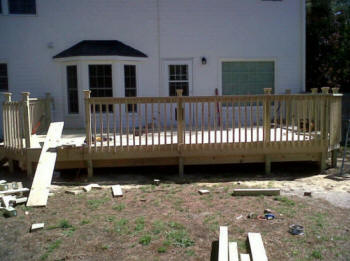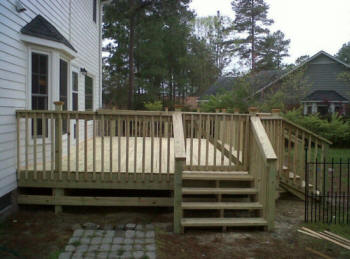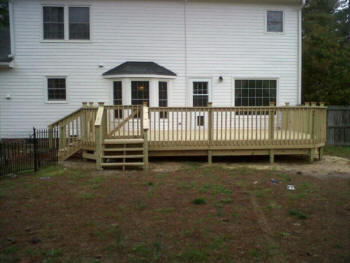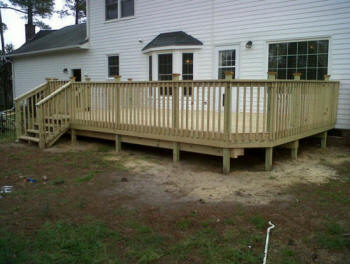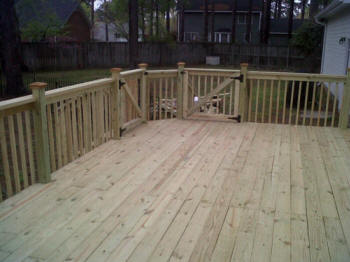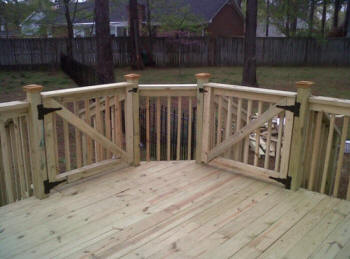 DECK GALLERY
DECK TREATMENTS
A wooden deck is your major investment you make in your home. That is why it is really essential to maintain your deck and go in for regular deck treatments which will help you in keeping it in the best condition. When the deck is well-maintained it can make your house stand out and one that's not in good shape can be a major detraction.
Keep your home looking its best and protect your investment by cleaning and sealing your deck regularly. Most of the time, the wood that is left exposed to sun and moisture will quickly start to degrade.
And this is the same case with your wooden deck. If you leave your deck untreated, you can very well be ready to make that investment again as the deck would give away soon without treatment. In some other cases, the wooden boards used in the deck are prone to cup, warp and split. If the problem is ignored for a long time, you may have to make major repairs or in some cases, sections of the deck might need replacement.
The deck treatments are all about
• Stripping
• Cleaning
• Sealing
It depends on the condition of the deck as to which method to be used. However, sealing is an important treatment for your deck. Deck sealing is a three-step process. Remove any old stains or coatings, clean the wood, and seal it against weather damage. If the deck has never been sealed before you won't have to strip it, but brand new wood has special pre-stain preparation needs.
DECK WATERPROOFING
In your dream home, a wooden deck is your major investment you make. That is why it is really essential to maintain your deck so that it would last you for years and you won't have to make such investment again.
One of the basic methods to secure the life of your wooden deck is deck waterproofing. Getting the deck waterproofed saves you from the possible hassles even if the wood is exposed to harsh natural elements for a period of time.
Waterproofing the deck is one project which you can execute by yourself even if you don't have any formal training. To start with you need to clean up your deck from dirt and derbies. Cover area around your deck with some droop cloth so that it won't be affected. Now you can apply a sealer using a sprayer.
For better results remove the additional sealer from the deck. Let the sealer set for around 20-30 minutes. This way the sealer would be permanently settled into the joints and will seal the deck for water. Sealing the deck will make it waterproof and will keep it in its optimum condition for years together.
However, it is quite necessary to do the deck waterproofing at regular intervals. Local Deck Repair Contractors Local Deck Replace Contractors Replace Deck Boards Local Deck Steps Stairs Railing Floor Joist Local Deck Repair Wood Local Outdoor Deck Builders Company I Need Find Best Carpenters Repair Wood Decks Backyard Trex Remodel/Repair Replace Railing Steps Treated , Cedar, Redwood, Pine, Timber Tech, Azek Evergrain Outdoor decks are a relaxation and enjoyment necessity for the modern home.
Local Deck Repair Contractors FREE Quote ➨ Local Deck Replace Contractors Replace Deck Boards Local Deck Steps Stairs Railing Floor Deck Joist Local