"Q. How do you offer so many Services?
A. We are a Company of Contractors-Tradesmen & Designers,"
~Design~
Making sure that your deck compliments your home, your yard and has the right space for your outdoor furnishings is important. We will work with you to create a deck that is as beautiful as it is functional that also fits your budget. We stock four top grades of B.C. red cedar at our own lumber yard, including clear cedar. Buying direct from the lumber mills gives us top quality materials at exceptional discounts. This is one great advantage of working with the largest and oldest custom deck builder Our craftspeople work on your project exclusively from start to finish, completing your project by our guaranteed completion date, subject to the weather. At the end of each day, your home will be left neat and tidy and our finishing touches will be enjoyed for years to come. Our website deck photos of backyard decks giving you deck ideas to incorporate into your custom deck. The process begins with a visit to your home where we discuss your needs and offer you, thousands of deck pictures of every custom deck imaginable. Our aim is to help you design your dream deck. Following the initial consultation, we will provide you with a professional deck design and deck estimate, competitively priced with an itemized list. . Once construction begins, our customers are treated to the best materials for cedar and composite decks and quality service.
~Sunroom and Deck Construction~
"Q. How do you offer so many Services?
A. We are a Company of Contractors-Tradesmen & Designers,"
FAQ's
Q:
Do I need a handrail?
A:
Building Code requires a handrail for all decks or walking surfaces more than 30" above ground.

Q:
I saw a great, open style handrail design in a magazine, can you do that for my deck?
A:
Many 'open' style handrails do not meet Building Code of maximum openings such that a 4" sphere can not pass through at any point in the rail. We are happy to work with you to design a rail that you will not only be happy with, but that will keep you and your loved ones safe, as well.

Q:
Do you build ramps for the disabled?
A:
Yes, we are more than willing to build a ramp for your needs, whether at your deck or entry to your home.

There are many synthetic decking and railing materials available from which to choose.
As with any building material, there are some good ones and some not-so-good ones. To make it even more confusing, new products are seemingly coming out every week. A few that we use are Trex, TimberTech, Azek and Evergrain
~New Deck and Storage Room~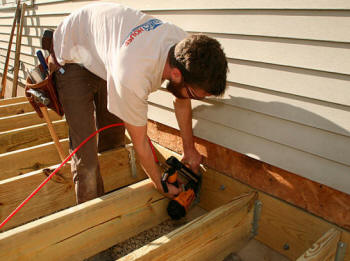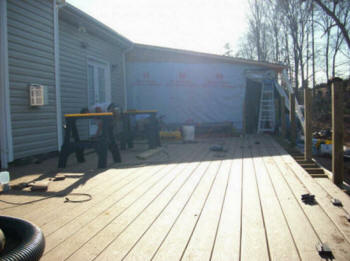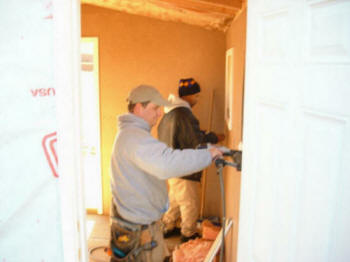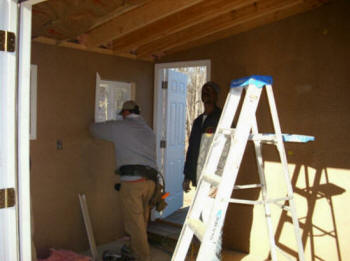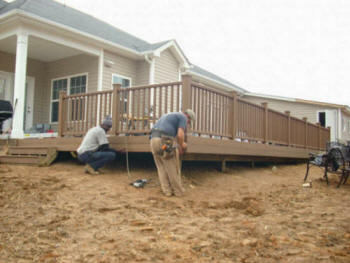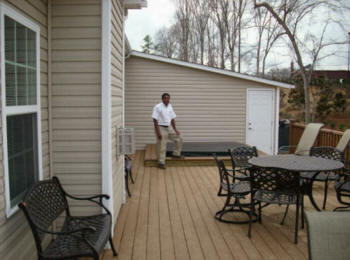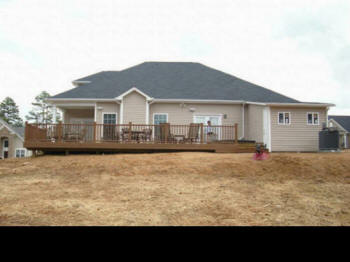 DECK GALLERY
Install/Build Local Deck Builders & Cost Local Decks Contractors Add On Extend Local Deck. Local Hot Tub Deck Builder. Wood Trex Local Deck Remodel/Repair Local Deck Board Replace Railing Build Deck Stairs Steps Local»» Treated, Cedar, Redwood, Pine, Timber Tech, Azek Evergrain. Local Stain and Seal Deck. Local Composite Decks.Entrance Decks Balcony-Decks Bi-Level Decks Multi-Level Decks Free-Standing Decks Multi-Functional Decks Semi-Circular Decks Rooftop Decks Garage Decks Pergolas Gazebos Redwood Decks Cedar Decks Ipe Decks Trex™ Decks Custom Builders of Decks and Gazebo's, We are the largest composite deck builder in have over 1,500 of these installed. This "maintenance-free" decking is over 85 percent of our business today and will never need staining but does require an occasional bath. Every year we find our crews hundreds of miles away working on projects referred by one of our satisfied customers.
TYPES OF WOOD FOR DECK
Wood is the preferred material for building those long lasting decks. Wood is natural material and looks splendid and is also considered stable, durable, and easy to work with. That is why great decks come up with quality wood. However, wood is vulnerable to damage from natural elements like water, if exposed for a long time, and therefore it should be checked regularly. But apart from such occasional problem, wood is enduring and increases the style of your deck.
There are many popular types of wood that are used for decks. These types are Cedar: wood is a favorite for decks. Cedar wood looks and smells wonderful, but at the same time it is also extremely durable. Cedar wood can be found in some of the most exciting textures and the are soft, and the grain of cedar is intricate and beautiful.
Cedar produces natural tannins that are thought to be naturally resistant to insects. Redwood: is another popular wood which is reddish in appearance. Apart from the color, redwood is quite similar to cedar. Pressure-Treated Pine: is the wood that has been chemically treated to ward off insects and rot. Cedar and redwood do not require such treatment.
However there are certain drawbacks of using pressure treated wood that result in rapid discoloration, prone to splitting, and many chemicals are in the wood that can discolor it. Pine: wood is very popular in deck construction and is widely used. This variety varies from very soft wood to very hard wood.
Pine wood is versatile and is usually pressure treated for deck construction, cheaper than cedar or redwood, and dependable. Custom Deck Builder Contractor Cost Budget Add Build New Replace Old Decks Repair Trex, Treated Wood, Cedar, Redwood, Pine, Timber Tech, Azek Evergrain Local Custom Extend Add On To Old Deck Builder Contractor Cost I Need Find Best Decks Build New Replace Repair Trex, Treated Wood, Cedar, Redwood, Pine, Timber Tech, Azek Evergrain There are many synthetic decking and railing materials available from which to choose. style your custom deck. Features can be integrated into the bench design such as lighting or storage and gardeners love having planters incorporated into the design.
Local Wood Deck Builders FREE Quote ➨ Local Wood Deck Stain/Seal Refinish Local Wood Deck Contractors Local Wood Deck Repair Local Wood Deck Remodel Local Wood Deck Extend Add On