Build Your Own Pergola - Do it yourself Pre-Outdoor Fireplace Kit
Alabama - Dothan, Montgomery, Mobile, Helena, Hoover, Orange Beach Arizona - Bullhead, Glendale, Lake Havasu City, Casa Grande, Cave Creek, Mesa, Phoenix, Roosevelt, Safford Distribution Yard, Vail, Yuma Arkansas - Little Rock, Fort Smith, Greenwood, Hot Springs, Mountain Home, Ward California - Bakersfield, Hollister, Vacaville, Apple Valley, Los Angeles, Morro Bay, Palo Cedro, Palm Desert, San Fernando, San Jose, Hemet, Bonsall, Temecula Canada - New Brunswick, Moncton; Ontario, Barrie, Burlington, Kettleby, Markdale, Toronto, St. Thomas, Aylmer, Brampton, Oakville, Kitchener; British Columbia, Dundas, Kelowna, Langley, Mississauga; Alberta, New Market, Simcoe, Vancouver; Nova Scotia, Windsor Colorado - Boulder, Colorado Springs, Denver Conneticut - East Lyme, Shelton, Torrington Delaware - Middleton,Viking Florida -Tallahassee, Port Orange, Pensacola, Fort Walton Beach, Coral Springs, Kissimmee, Oveido, Destin, Arcadia, Panama City Beach, Jacksonville Area, Macotte, Daytona Beach Area Georgia - Kingston, Savannah, Pooler, Marietta, Atlanta, Metter, Hinesville Hawaii - Kihei, Maui, Lana'i, Moloka'i, O'ahu, Kaua'i Idaho - Boise, Nampa Illinois - Bloomington, Bourbonnais, Chicago, Hanna City, Peoria, Union, O'Fallon, Geneva, Crystal Lake, Paris, Urbana, Schaumburg, Yorksville, Linderhurst, Barrington, Middlebury, Sandwich Indiana - Lebanon, Schereville, Evansville, Indianapolis, Fort Wayne (Distribution Yard), Bluffton, Middlebury Iowa - Bettendorf Kansas - Lawrence, Topeka, Olathe Kentucky - Morehead, Louisville Louisiana - Baton Rouge , Covington, Paulina, Raceland, Breaux Bridge, Denham Springs, Lake Charles Maryland - Friendship Massachusetts - Barnstable, Boston, Cape Cod, Weymouth Michigan - Clarklake, Lansing, Jackson, Milford, Arbor, Caledonia, Schoolcraft, Warren Minnesota - Prior Lake Mississippi - Biloxi, Brandon, Hattiesburg, Bay Saint Louis Missouri - St. Charles, St Louis (Distribution Yard), Cape Gerardo, Festus New Jersey - Watage, Vineland, Little Egg Harbor, Turnersville Nevada - Las Vegas, Pahrump New Mexico - Albuquerque, Belen, Carlsbad, Las Cruces, Roswell New York - Campbell Hall, Stuyvesant North Carolina - Raleigh (Distribution Yard), Concord, Charlotte, Greenville, Wilmington, Apex, Mt. Pleasant, Morganton, Statesville, Ocean Isle Beach, Durham, Chapel Hill, Cary, Wilson, Rocky Mount, Fayetteville, Smithfield, Wake Forest, Topsail Beach, Hampstead, Shallotte, Surf City, Jacksonville, Holden Beach, Carolina Beach, Oak Island, Thomasville Ohio - Columbus, Libery TWP Oklahoma - Chickasha, Ada, Wellston, Wister, Blue Hawaiian Oregon - Grants Pass, Medford Puerto Rico - Cabo Rojo, San Juan Pennsylvania - Allison Park, Bethel Park, Bristol, Cranberry, Jeannette, Kittanning, New Eagle, Newtom, Pittsburgh, Wexford South Carolina - Charleston, Hartsville, Pawley Island, Mount Pleasant, Murrells Inlet, Hilton Head South Dakota - Hot Springs, Rapid City Texas - New Braunfels, Uvalde, San Marcos, Seguin, San Angelo, Austin, Creedmoor, Corpus Christi, Gonzales, Houston, Kileen, Salado, Lolita, Houston, Rockport, San Antonio (Headquarters), Waco, Dallas, Fort Worth, Grape Vine Tennessee - Apison, Knoxville, Chattanooga, Seymour, Monroe, Bon Aqua, Moscow Utah - Salt Lake City, Pleasantview, Washington, Saint George Virginia - Cape Charles, Chesapeake, Colonial Heights, Dutton, Edinburg, Haymarket, Manassas, Onancock, Spotsylvania, Charlottesville, Virginia Beach, Newport News, Tappahannock Washington - Seattle, Tacoma, Bellingham, Royal Wisconsin - Eau Claire, New Auburn, Colgate, Kenosha, Strum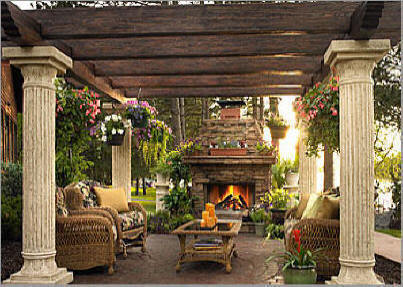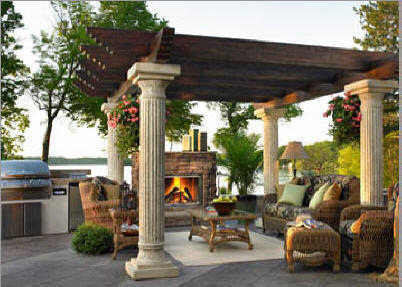 Outdoor Living Made Easy!
Create an outdoor living area that fits your style, sensibility, adds value to your home and a place to share warm memories with friends and family for a lifetime! We've got an affordable, dependable way for you to do it, too- something you've never seen before!
Outdoor Wood-burning Fireplaces
Nothing says "warm and welcoming" like a nice, crackling fire in an outdoor fireplace Winter, Spring, Summer or Fall. It's always a good time to sit outside with friends and family, and visit in front of a Pacific Living outdoor wood-burning fireplace . . .
Did you know you can do it yourself? Watch the video and see! Arrives on one pallet in three major, interlocking pieces. With four strong people, you can install your new fireplace in an hour or less! No glues, fasteners or mortars needed-- it's a simple, safe design for a custom built look (you don't even have to tell anyone you did it yourself!)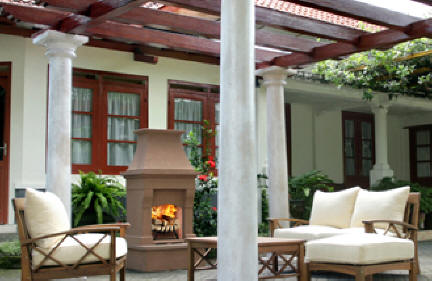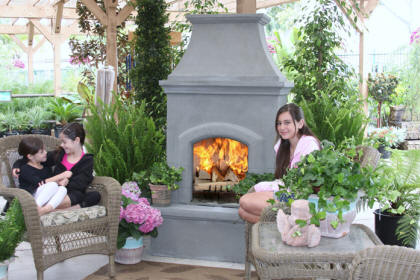 Which one do you want?
Choose a style below that's right for you!
- Delivery can be as early as 2 weeks or will be within four weeks. Feel free to call and check on the availability of a model you like.
- Mid-size fireplaces are 68" tall, 32" Wide and 28" Deep.
- Premium Fireplaces are 72" tall, 42" Wide and 28" Deep.
- These are made from a patented concrete blend that is lighter and stronger than concrete, real to the touch, hefty, with a sandy texture that ages well over time. Mid-size fireplaces are 750 lbs., large fireplaces are 1100 lbs. These are not going anywhere (but can be easily dismantled and moved/re-installed to a new area whenever you like!).
- They come with a spark arrester to keep sparks from leaving the hood, a firebox liner and grate, so you're ready to light your first fire in minutes!
- Colors: Desert Tan, Stone Grey, Midnight Grey, Terracotta (see choices below)
Midnight Grey Premium Fireplace w/Marble (20.005.23)

Regular Price: $3395.95

Sale Price: 2595.95

Stone Grey Premium Fireplace (20.004.22)

Regular Price: $3295.95

Sale Price: 2495.95
Desert Tan Premium Fireplace (20.004.26)

Regular Price: $3295.95

Sale Price: 2495.95
Midnight Grey Mid-Size with Marble (20.011.23)

Regular Price: $2495.95

Sale Price: 1995.95
Terracotta Mid-Size with Rosestone Marble (20.011.25)

Regular Price: $2495.95

Sale Price: 1995.95
Desert Tan Mid-Size with Creamstone Marble (20.011.26)

Regular Price: $2495.95

Sale Price: 1995.95
Desert Tan Mid-Size Fireplace (20.003.26)

Regular Price: $2395.95

Sale Price: 1895.95
What are your Pergolas made from?

Our New Tuscan pergolas are made from a patented mixture that gives it the lightweight quality for ease of installation, yet allows them to be patched easily and withstand the test of weather and time for generations to come.

What makes your fireplaces unique?

They are made from a composite concrete and fiberglass mixture that is much stronger and lighter than concrete.
They have an aged look and sandy texture that gives the unit an old world charm.
They are 6 feet tall and under which allows them to be classified as "outdoor grills" and avoids building and code restrictions. Local codes should always be checked, however.
They are a do-it-yourself item that two to four strong people can assemble. They are built with an interlocking design and do not require the use of deteriorating glues or mortar to assemble. You get a custom look and quality for a very affordable price!

What are the clearances?

The top shop should be 5 feet from combustible materials
The front should be kept clear of people and all combustible materials by a distance of at least 2 feet.
Side and back should be 1 feet from combustible materials

What are other safety considerations?

Do not place unit under roof overhang or other combustible materials such as patio covers or pergolas.
Do not place unit within 7 feet of windows.
Place unit on solid, level ground, preferably level stone or concrete. Flooring must be non-combustible—cannot be asphalt or black top.

What are the dimensions of your fireplaces?

Mid-size fireplace = 32" W x 28" D x 62" H; Firebox dimensions = 29" W (17.3" W opening) x 19.3" D x 35.4"H (19.3" from base to mid-point of firebox archway)
Premium fireplace = 42" W x 28" D x 72" H; Firebox dimensions = 39.4" W (17.3" W opening) x 19.3" D x 37.4"H (26.8" from base to mid-point of firebox archway)

Can the fireplace withstand rain, heat and extreme cold?

Yes, these fireplaces are designed to be used outdoors and withstand all of the elements. The concrete will in fact grow stronger with more moisture and time as it continues to cure in the years to come.

How can the fireplace withstand the heat of burning wood?

The design of the firebox allows for the right amount of airflow so that the fireplace can be used to burn wood. No metal firebox is needed, only the proper installation of the included brick liner and base pieces.

What does the back side of the fireplace look like?

The back side of these fireplaces is not flat, but continues the beveled look and trim of the front and sides.

If you drill a hole to add a gas line, will this void the warranty?

Yes, this will void the warranty as these units are made for wood-burning.

Will the fireplace work with a gas log set?
The fireplaces can withstand the heat of natural or propane gas log sets.
A Pergola kit from Pacific Living, Inc. can come in many sizes and shapes. Style of a pergola kit, attached to the home or not, should be complimentary and true to the style of the home. Our pergola kits are designed to compliment a variety of styles and tastes. Click here to learn more
About Pacific Living, Inc.

Who We Are
Pacific Living, Inc. is a family-owned and operated business located in Irvine, CA open now in Charlotte NC. We have been in the heating and import business for nearly 30 years, now, so we're able to provide outdoor living products that not only give you the best deal for your money, but are quality-made, dependable and live up to their promise of long-lasting enjoyment. Our products are easily shipped and easy to install, so online ordering is a great way to go! If you prefer to see our products in person, feel free to call us at 24x7 TOLL FREE 1-866-559 -1871.

Our Mission
We cherish the time we get to spend as a family, and so we're dedicated to helping you make your home and family living areas a special place for you to create memories that will last a lifetime.
Please feel free to contact us with any questions or concerns. Thank you and God bless!

Jim Kupanoff

President, Pacific Living, Inc.



T
hank you for visiting Designer Properties. Here you can learn more about us in the comfort of your home/office. It should give you enough insight on why we are one of the busiest companies in the area. We are a Full Site Development company.Designer Properties and Associates is one of the few companies in this business run as a team of expert Contractors and Master Tradesman. Our contractors and Tradesman work independently, Under their own contracts have their own license and insurance and responsible for their area of expertise. We are a company that emphasizes a team solutions approach. "Designer Properties boasts a unique, close-knit team of experts in all facets of construction development"
24x7 TOLL FREE 1-877-879-0989

It is your responsibility to select the professional you are interested in working with. Any contract or agreement you have with a contractor is between you and the company you select and does not involved our program. By using our website, you agree that should you have a dispute with any company, you must address such dispute directly with the business that performed the work. You also agree to release Designer Properties, and DP and Associates (and our officers, directors, affiliates, directors, affiliates, employees, and agents) from any damages or claims arising out of or in any way connected with such disputes.

www.atlantagaremodelingcontractors.com www.atlantagalandscape.com www.charlottenccabinets.com www.charlottencoutdoorkitchens.com www.charlottencpatios.com www.columbiasclandscaping.com www.designerproperties.net www.designerpropertiestexas.com www.dpandassociates.net www.houstontexasbuildersremodelingcontractors.com www.houstontxlandscapeandoutdoorspaces.com www.landscapeandhomecontractors.com www.raleighncremodelingcontractors.com www.sanantoniotexasbuildersremodelingcontractors.com