"Q. How do you offer so many Services?
A. We are a Company of Contractors-Tradesmen & Designers,"
~Pool Decks and Patios~
The type of patio or pool deck that you choose on will probably affect certain landscaping elements. Patio and deck materials are crucial. Wood is the most common material used in decks. For pool patios, concrete, brick, cobblestone and marble can be used. A deck or patio should be non-slipping and cool to walk on as well as aesthetically enhancing. Wooden decks work well with wooden trellises or privacy screens and matching flower boxes. A concrete pool patio will better match stone fountains and concrete art.

Pool Landscape Lighting

Path lights around the pool will create lighting for night use. Up lights in nearby trees will add some lighting also. Torch lights are a great way to create lighting for areas where typical lighting does not seem to work. And torch lights create a wonderful ambiance! You want your swimming pool lighting to be functional, but also subtle.

Swimming Pool Furniture- When creating landscape designs for pools and the pool paving, Designers always make sure the spaces will be large enough for the desired seating. They usually allow a minimum of 15' for a table and chairs and 10' for lounges. I try to make the area used for dining easily accessible to the kitchen.

~Pool Remodel #1~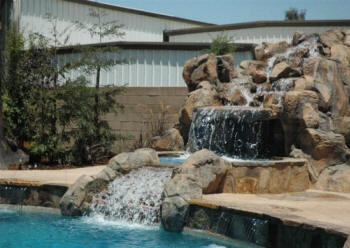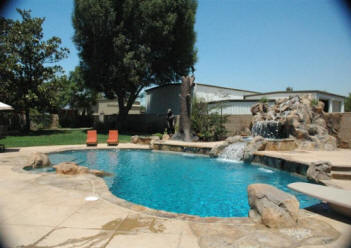 ~Pool Remodel #2~
Gallery Pool House
POOL HOUSE1 POOL HOUSE2 POOL HOUSE3
Gallery Pools
When thinking about landscape designs for pools, an important decision to make is what type of pool paving material to use. Today's pools are more attractive than ever, serving as the centerpiece of a home's outdoor space. With smart innovations in design and maintenance, these pools are also easy to take care of. Here is a roundup of ten of the hottest trends in pools from the Association of Pool and Spa Professionals (APSP): 1. Go to Your (Outdoor) Room. More and more people are looking to their own homes and backyards for escape from a hectic world. And in many of these backyards, the pool is the centerpiece of an outdoor living space complete with cooking stations, comfortable furniture and even dining room tables. "People are looking at pools differently," and a member of APSP's Builders Council. "They are not just places to splash and play anymore." 2. Water without Walls. Some of the most popular ideas in pools now involve the lack of pool walls -- most notably playful and pretty beach entries, shallow and comfortable wet decks and dramatic vanishing edges. The beach entry is just what it sounds like -- a gently sloping entrance to the pool that mimics a beach in looks and feel. Wet decks are extremely popular, says Campbell. "You can lay in about four inches of water and read your magazine and stay cool." 3. Fountain Fun. Fountains that gently bubble or those that make a big splash create a sound shield for your pool and help keep it clean. And some are downright fun. Intermittently squirting fountains in a beach-entry area will entertain little ones for hours. Fountains coming from and highlighting statuary or antique Greek urns make a beautiful, timeless statement. Subtle, yet immensely refreshing misters look and feel great. Laminar flow fountains shoot a stream of water about the thickness of your finger through the air. The water holds together to create a moving, watery tube that will carry the glow of fiber optic lighting. Foaming fountains mix water and air for a frothy, mushroom-head effect. Lots of manufacturers are offering adjustable nozzles to let you control how high and how far your fountain will go. 4. Water Falling. Always popular, waterfalls continue to be one of the most-requested design elements on pools. The options often are only limited by imagination. Sleek sheets of water fall over granite platforms to offer a secluded area for swimmers. Other versions are playful cascades that splash and fall from real or manmade rocks. Some waterfalls let you increase or decrease the rate of fall to get the sound of gently falling rain or a turbulent rain shower. 5. It's Automatic. Turn on your waterfalls, light your night, take the work out of pool work. There's automatic equipment to meet all these needs. Just program them, and relax. Many of these controls are computer-friendly, allowing you to telelink to your system. You can then operate pool functions via telephone from the office or your mobile phone. But you might not want to bother. "The automatic systems are computers in their own right," says Lew Akins, an APSP Builder's Council member. "They are incredibly simple to operate," he adds. "On-screen programming walks you right through it." 6. Light it Right. The right lighting will not only enhance your poolscape, but it also will make it safer. Glowing incandescent lighting can spotlight water features as well as garden and architectural elements. Perimeter lighting will make a pool look magical at night. Floating, color-changing solar lights are downright fun. Little lights set in stone illuminate walkways and steps. And fiber optic lighting offers colors to suit any mood. These high-tech, yet accessible systems work by transmitting light -- from a source located away from the pool -- through high-quality glass or acrylic fiber optic cables. Color wheels make coloring your world as easy as flipping a switch. 7. Material World. Italian glass mosaic tiles, vinyl, fiberglass, natural and native stone, composite materials made with sprayed concrete and pebbles from rivers around the world. There's a smooth and comfortable pool finish to suit any lifestyle and taste -- and you don't have to worry about snagging your swimsuit. In-Ground Pool Landscaping & Renovations Contractors I Need Find Best Local Swimming Pool Remodeling Company Remodel Up Date Cost Ideas Cost Free Quote When thinking about landscape designs for pools, an important decision to make is what type of pool paving material to use. There is a definite trend toward natural materials, says Akins. And new finishes make even the slickest granite slip-proof. The latest pool-surfacing materials have one thing in common -- they are as easy to maintain as they are on the eye. 8. Maintenance Made Easy. Today's superior chemicals, state-of-the-art equipment and advanced cleaning techniques have made pool care pretty much carefree. With automated systems, it takes little more than a touch of a button or a flip of a switch to cover or uncover the pool, clean it, control the temperature and dispense the chemicals. (If you want to do even less, call on a APSP Certified Service Professional who will be well trained, knowledgeable and highly skilled.) Meanwhile, pool maintenance has gone high-tech. Magnetic water conditioners turn oil and other substances into larger particles so that the filter can pick them up. And salt chlorine generators (which turn ordinary salt into chlorine) keep pools sparkling. 9. Energy Efficient. Energy-efficient filters and pumps sometimes garner power company rebates but always pay for themselves in the long run. notes that small pools (a trend in itself) combined with heat pumps make for energy-efficient backyard retreats. Thermal pool blankets or solar covers have soared in popularity, especially. Lightweight and relatively inexpensive, they attract the sun's heat and can increase a pool's temperature by as much as 10 degrees. There's even a new liquid solar blanket that can be thrown in the pool to form a layer to attract heat. 10. Safe from the Start. Simple safety is one thing that defies all trends. There's no substitution for old-fashioned supervision. And "the way to protect your children 365 days a year," says Campbell, "is to teach them to swim well." State and local governments have area-specific barrier requirements and codes. Beyond that, self-closing and self-latching gates and doors should surround your pool. Window latches, good lighting and portable telephones also are easy and excellent protection devices. And pool safety covers that meet the American Society for Testing and Materials (ASTM International) safety standards will provide an added layer of protection -- a horizontal fence, if you will. (They also will cut down on day-to-day operating costs by reducing heat loss, chemical usage and water evaporation.) Automation makes them push-button easy. Additionally, there are in-pool motion detectors and alarms that will let you know if anyone is in the water. Other types of wireless-transmission alarms strap onto children or pets and shriek if they get wet. In-Ground Pool Landscaping & Renovations Contractors I Need Find Best Local Swimming Pool Remodeling Company Remodel Up Date Cost Ideas Cost Free Quote When thinking about landscape designs for pools, an important decision to make is what type of pool paving material to use. And main drain-entrapment problems have been eliminated by either building a pool without a main drain or using drains with safety technology built right in. But in the end, common sense, practicality and supervision can be quite trendy after all.
Inground Pool Patio Contractors FREE Quote ➨ Pool Landscaping Company Inground Pool Waterfalls Install Flagstone Pool Pavers Patio Inground Pool Repair Pool Tile Coping Replace