"Q. How do you offer so many Services?
A. We are a Company of Contractors-Tradesmen & Designers,"
Concrete gunnite or shotcrete Inground Pools
A concrete pool is -built to your specifications by the pool-builder you choose. It is the most common type of in-ground pool, and the initial installation generally costs less than a fiberglass pool. Concrete pools are constructed in stages, including pool layout and excavation; steel installation; plumbing installation; equipment set; gunnite or shotcrete application; tile and coping installation; and interior finish installation. Although they take longer than fiberglass pools to construct, they have the advantage of virtually unlimited shapes, sizes and designs. The construction time on a concrete pool is generally three to 12 weeks.
Points to Ponder
Price: The initial installation of a concrete pool is generally less than a fiberglass inground pool. So, if you want an in-ground, but the total up-front outlay is of concern to you, a concrete pool might best fit your needs.
Variety of Finishes: A variety of interior finishes is available, including plaster, paint or pebbles. These provide you with several options to best suit your budget and desired design.
Weather Resistant: Some industry specialists believe that concrete pools are well-suited to parts of the country that have extremely high summer-time temperatures. Concrete also is perceived by some to function better in areas where the soil is very expansive.
Strength: Both fiberglass and concrete are materials of great strength. Talk to your dealer or builder about the implications of your soil type and weather on both types of materials.
Important laws regarding safety must be considered before choosing your new pool. Specific regulations vary with each community, so be sure you are clear about the letter of the law before installation begins.
~New Pool and Patio Area~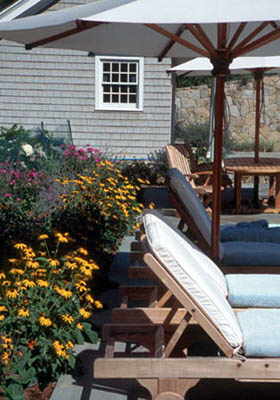 "Q. How do you offer so many Services?
A. We are a Company of Contractors-Tradesmen & Designers,"
Gallery Pool House
POOL HOUSE1 POOL HOUSE2 POOL HOUSE3
Gallery Pools
You need to remember that, not just because the kitchen is situated outside the house, you can already forget about traditional design principles. You still need to apply the same design principles and function is one of the most important things that you need to consider. One of the best designs when it comes to functionality is the kitchen work triangle. A kitchen work triangle has its sink on one tip of the triangle. The center of the cook top or range is located on another tip of the triangle. The refrigerator is also on the other tip. This might be quite impossible or impractical to achieve this in an outdoor setting depending on your focal point, orientation, and the structures that you already have in your space but whatever the type of layout that you choose to go with there are always good ways to make it functional.
No matter what the season, spending more time outdoors with friends and family is the best way to spend one's time. An outdoor fireplace is a great conversation starter and centerpiece for any social gathering with an indoor fireplace being a very expensive undertaking since it needs to be retrofitted into the existing building.

The perfect alternative to this are outdoor fireplace Contractors. They are now available in many styles with excellent build quality and design. They have been gaining popularity steadily over the last few years due to a selection of high quality, good-looking and easy-to-assemble Contractors arriving on the market. Many people have decided to replace their expensive custom outdoor fireplaces or simply not buy one in the first place since these are so much more affordable. Outdoor fireplace Contractors allow you to transform an entire outdoor area in one weekend, making it a social and entertainment hub.
Custom outdoor fireplaces have the ability to transform any outdoor area into a warm and serene oasis from busy, everyday life. They remain one of the most popular outdoor accessories to add dimension to an otherwise bleak backyard.
2. Water without Walls. Some of the most popular ideas in pools now involve the lack of pool walls -- most notably playful and pretty beach entries, shallow and comfortable wet decks and dramatic vanishing edges. The beach entry is just what it sounds like -- a gently sloping entrance to the pool that mimics a beach in looks and feel. Wet decks are extremely popular, 3. Fountain Fun. Fountains that gently bubble or those that make a big splash create a sound shield for your pool and help keep it clean. And some are downright fun. Intermittently squirting fountains in a beach-entry area will entertain little ones for hours. Fountains coming from and highlighting statuary or antique Greek urns make a beautiful, timeless statement. Subtle, yet immensely refreshing misters look and feel great. Laminar flow fountains shoot a stream of water about the thickness of your finger through the air. The water holds together to create a moving, watery tube that will carry the glow of fiber optic lighting. Foaming fountains mix water and air for a frothy, mushroom-head effect. Lots of manufacturers are offering adjustable nozzles to let you control how high and how far your fountain will go. br>
Local Near Me Concrete Inground Pool Builders Install