"Q. How do you offer so many Services?
A. We are a Company of Contractors-Tradesmen & Designers,"
There are myriad other options and accessories available to complete your backyard retreat. Once you've decided on the pool type and style best suited to your needs, be sure to ask about the following:
Covers: A pool cover can be a wonderful addition to your pool and/or spa area, and one of their main benefits can be increased safety. Covers come in many varieties and can extend the swimming season of your pool by several weeks by retaining the solar heat that is generated each day. Also, if you live in a highly wooded area, they can be used to keep leaves and other debris out of your pool. Many covers come in automatic or manual versions.
Heaters: Pool heaters come in many shapes and sizes. In milder climes, you can enjoy year-round swimming by adding a heater to your pool set-up.
Filters: There also are many types of pool filters designed to meet the particular needs of your pool. Your dealer or builder can help you choose the one right for you.
Cleaners and Water Levelers: From automatic inground cleaning systems that you just "set and forget" to jazzy, high-tech pool vacs that literally climb your pool walls, there are a variety of systems available to help you keep your pool sparkling clean. If you're the type who likes to splash and dash, you'll certainly be interested in learning more about automatic water levelers that keep the water level in your pool at just the right setting.
Important laws regarding safety must be considered before choosing your new pool. Specific regulations vary with each community, so be sure you are clear about the letter of the law before installation begins.
~New Pool and Patio Area~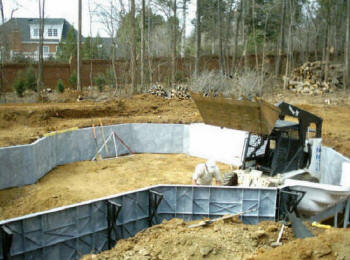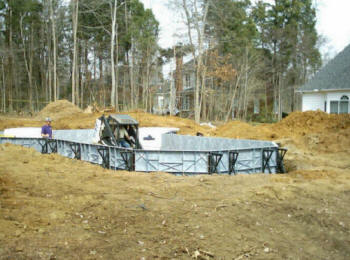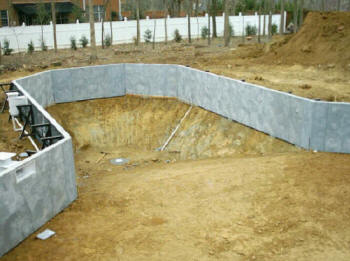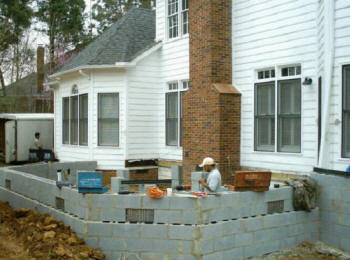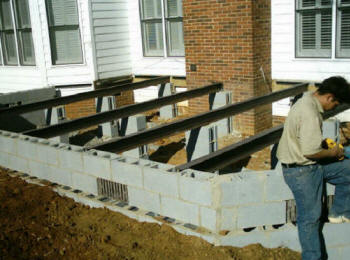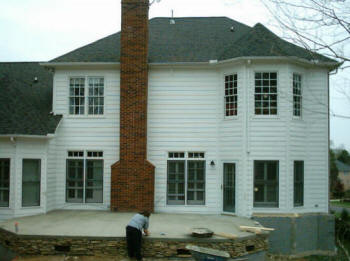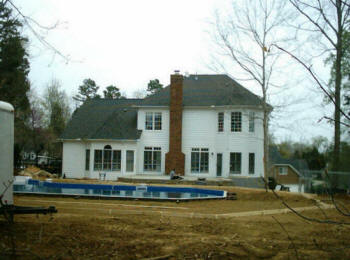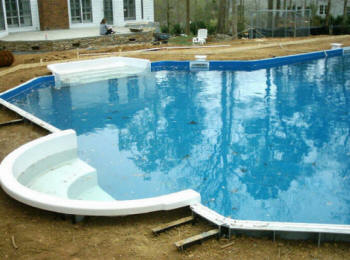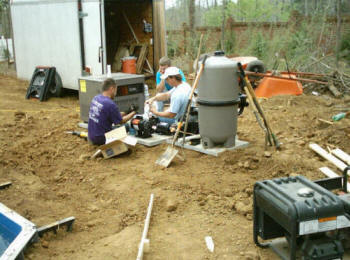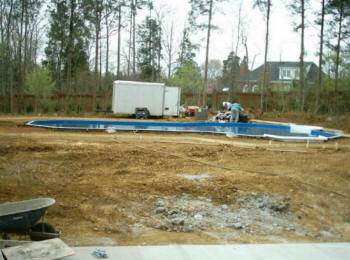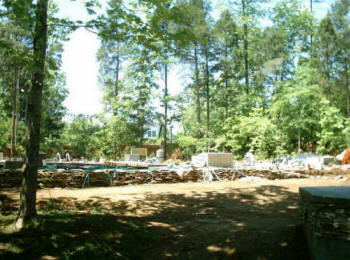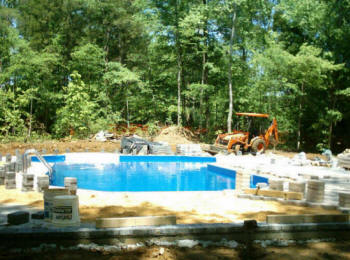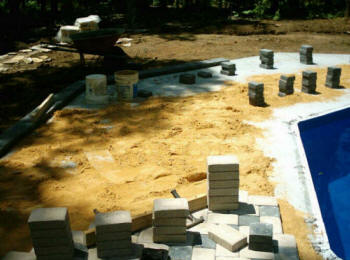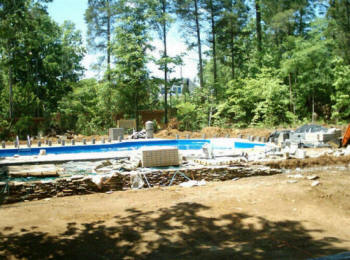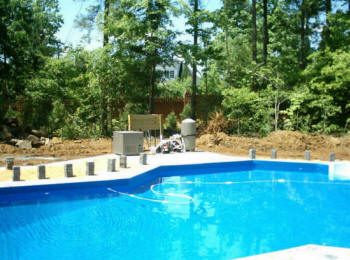 Gallery Pool House
POOL HOUSE1 POOL HOUSE2 POOL HOUSE3
Gallery Pools
There are different choices of materials for building the pool fireplace like stones- natural stones, limestone, marble, or slate; aluminum; cast iron etc. but the most durable material is definitely brick. You will have to choose such a building material for the pool fireplace such that it does not fade easily or catch rust or corrosion.

It must be capable of withstanding the blazing flames or other weather particles. In order to complete the outdoor pool fireplace designs you will need fire box, crown, over-mantel, a leg, mantel shelf, header, filler panel and plinth base. Chimeneas, which is Mexican pattern chimney pots, have become very popular.

There are different sizes and colors available for the pool fireplace depending on the material you choose. Taking professional assistance is always advisable. This will not only ensure good designs but you will get correct tip for positioning the pool fireplace. The pool fireplace must be in a safe place away from electric wiring or flammable area.

By employing the professional you can remain assured of perfect service and fulfillment of your demand. Build a shelter for the pool fireplace because being vulnerable to wind fire can cause accidents so safety measure must be kept in mind while building the pool fireplace. Looking after the fireplace is very important and for this you have to follow what the manufacturer is suggesting. It is very enjoyable to relax outside if the outdoor pool fireplace designs are carefully implemented.
Stainless Steel and Cast Iron: The main benefit of metals is their high temperature tolerance, however, depending on your style preference and house design, it may be the perfect choice aesthetically as well. Custom pool outdoor kitchen are the perfect complement to an entertainers' home.
With custom pool outdoor kitchens you can achieve almost any design idea you desire. This of course includes the style and materials used, but the latter is something you need to consider very carefully. Certain woods for example may not withstand changing weather conditions, so it's important you select materials that are durable in such conditions, such as slate, flagstone, cedar and teak. Associated with the pool outdoor kitchen design are also items that aren't very appealing to the eye. Things like gas canisters and rubbish bins aren't something you want to be on view, so all items need to be considered before you go ahead with any particular pool outdoor kitchen plans. You might also need to think about how your pool outdoor kitchen will look from within the house, and whether it blocks any sunlight.

Pool Outdoor Kitchens Contractors FREE Quote ➨ Pool Outdoor Fireplaces Contractors Build Pool Outdoor Living Spaces Brick Paver Stone Patio Pool Landscaping Cost