"Q. How do you offer so many Services?
A. We are a Company of Contractors-Tradesmen & Designers,"
In-ground pools typically come in three varieties: concrete (with various finishes); vinyl-liner; and fiberglass.
A fiberglass pool is factory-manufactured and then installed in one piece in your back yard when your excavation is completed. Basically, a fiberglass pool resembles a giant bathtub.
A concrete pool is -built to your specifications by the pool-builder you choose. It is the most common type of in-ground pool, and the initial installation generally costs less than a fiberglass pool. Concrete pools are constructed in stages, including pool layout and excavation; steel installation; plumbing installation; equipment set; gunnite or shotcrete application; tile and coping installation; and interior finish installation.
A vinyl-liner pool is furnished to the installer in kit form. After excavation, the panel walls are bolted or fastened together and supported at the bottom by a concrete footing. The vinyl liner is spread over the interior of the pool and covers the excavated floor and paneled walls.
Swimming pool landscaping Backyard Spa Experience- Envisioning a five-star resort style spa in your backyard? At Designer Properties, we can make your vision a reality with your choice of an above-ground Sundance spa or a designed in-ground spa with your new pool. The many benefits of warm water massage, known as hydrotherapy, can enhance your home and lifestyle. From reduced stress to a better night's sleep; a spa is a great addition to any outdoor living space. such as a swimming pool deck; whether concrete, stone, wood, or a specialty material. Swimming pool coping – surrounding the pool perimeter with flagstone, bricks, concrete, or coping stones.
~Finished Pool and Outdoor Kitchen Area~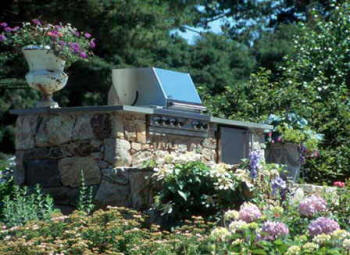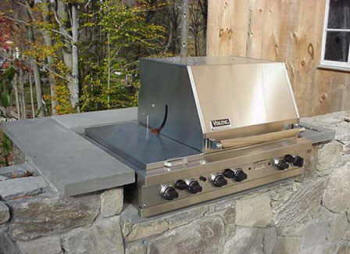 Gallery Pool House
POOL HOUSE1 POOL HOUSE2 POOL HOUSE3
Gallery Pools
Energy Efficient. Energy-efficient filters and pumps sometimes garner power company rebates but always pay for themselves in the long run. Campbell notes that small pools (a trend in itself) combined with heat pumps make for energy-efficient backyard retreats. Thermal pool blankets or solar covers have soared in popularity, especially in California. Lightweight and relatively inexpensive, they attract the sun's heat and can increase a pool's temperature by as much as 10 degrees. There's even a new liquid solar blanket that can be thrown in the pool to form a layer to attract heat. 10. Safe from the Start. Simple safety is one thing that defies all trends. There's no substitution for old-fashioned supervision. is to teach them to swim well." State and local governments have area-specific barrier requirements and codes. Beyond that, self-closing and self-latching gates and doors should surround your pool. Window latches, good lighting and portable telephones also are easy and excellent protection devices.
Glass Fireplace: These are not your average fireplace. They are made from very special heat-treated glass that can withstand very high temperatures without buckling, warping or melting. The sides of the fireplace are glass with the base being made from stone, concrete, steel of some other material. The glass sides add a super modern feel and allow guests to see the fire without any sparks or embers leaping out at them. Although this design looks really good, they are better for indoor use as they don't radiate as much heat as a stone fireplace for example. This might not be much of an issue for you though. Maintenance Made Easy. Today's superior chemicals, state-of-the-art equipment and advanced cleaning techniques have made pool care pretty much carefree. With automated systems, it takes little more than a touch of a button or a flip of a switch to cover or uncover the pool, clean it, control the temperature and dispense the chemicals. (If you want to do even less, call on a APSP Certified Service Professional who will be well trained, knowledgeable and highly skilled.) Meanwhile, pool maintenance has gone high-tech. Magnetic water conditioners turn oil and other substances into larger particles so that the filter can pick them up. And salt chlorine generators (which turn ordinary salt into chlorine) keep pools sparkling.
Pool Retaining Walls Contractors FREE Quote ➨ Install Pool Retaining Wall Contractors Repair Pool Erosion Control Contractors Concrete Allan Block Brick Stone Timber Cost