"Q. How do you offer so many Services?
A. We are a Company of Contractors-Tradesmen & Designers,"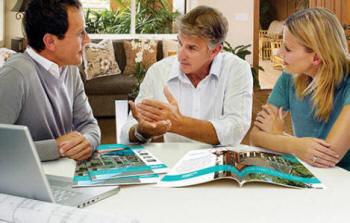 We are a local Home Renovations and Custom Building, Outdoor Living Spaces firm serving both home and business/property owners. Save $$Money$$ on Home Improvements and Get Quality Home Renovation Work Done! Over 90% of our new business comes from referrals. Choosing the wrong contractor--will cost you time, money and peace of mind. Choosing an experienced and trusted home improvement firm will yield great satisfaction, and in the end will save you time and money.
We are Available NOW For Your Job»» FREE Estimate Call 24x7 TOLL FREE 866-643-8662
OUR REPUTATION IS GROWING
We need to interact a lot with the homeowner, How are they going to use their homes? Are they the type who likes to entertain a lot, or are they private people? We have some clients who are very big in charitable and philanthropic events, and they need to have outdoor areas that can easily hold 100 people on a somewhat regular basis. So that begins dictating how large some of the Hardscape areas are going to be versus sunroom - deck areas, You don't design the patio, You design the party. Understanding how the home and a space are being used. "Sales - DP and Associates. One of the greatest values appreciated by our clients is our discretion. We respect our clients privacy and do not share any client or project information without explicit permission.
What we can Design/Build for you
We do what we say we'll do, period. We strive never to over commit and under deliver. Over 90% of our new business comes from referrals. Don't invest one cent of your hard earned money on your project until you see the solutions we have here for you! All we ask is just 10 - 20 minute's of your time, and see What we can Design/Build for you. We truly are a complete Full Site Development & Landscaping Company. We are not just builders that claim to be masons and carpenters. When we team our Contractor specialists with our masons and carpenters, there is almost no project we can't handle. We're committed to being the best Custom Full Site Development & Landscaping Company in our Area. We assure our customers the highest quality services and a complete turnkey solution. Whether you're in search of a new Master Landscape design; a relaxing new luxury bathroom; or complete home renovation-depend on us to beautify and enhance the quality of your surroundings. We provide a variety of residential Landscaping/Contractor services that are customized to suit the needs of your home and lifestyle. We simply will not cheap on materials or craftsmanship for anyone, Our clients deserve the best.. DP and Associates What Makes Us Different:
DP and Associates is one of the area's leading Full Site Development Companies, recognizes our customers have a choice when it comes to selecting a contractor to work on their property. We would like to have a moment and state clear what makes DP and Associates different from our competitors.
DP and Associates , has been in the business for a number of years now. Through these years, our core group of individuals, including president and foremen, has remained the same. Over this time, we have acquired a certain level of integrity and craftsmanship that is uncommon in the industry. A well deserved reputation as skilled and respectable contractors attentive to the customer's wishes and budget.
Custom Renovations and Landscape design
What does this mean and how do you achieve it? DP and Associates. Thinks of custom Renovations and Landscape design as being the process of melding your ideas and desires with our experience and expertise. This type of design and build can only be achieved through excellent communication and relationship building. DP and Associates, prides itself on 18 plus years of experience in providing just that to our clients. Whether it is a simple patio or a fully involved home renovation, we have the ability and skills to design and develop any project imaginable. Allow us to show you how our 18 plus years of experience can work for you. Master Plans are usually implemented in stages--not generally all at once. Master Plans are works in progress. Local Near Me general contractors "The growth and success of DP and Associates can only be as good as our service to our customers. We are a highly-trained group of professional designers-craftsman extremely specialized in designing and producing the very best quality possible, to achieve our customer's needs. But foremost, we are a service organization committed to achieving excellence within our Industry, by producing the kind of service and results deserved by our most precious resource, a satisfied DP and Associates customer.
"The Staff at DP and Associates"
Our Competitive Edge
Our company is attractive to homeowners because we have introduced a new level of professionalism to the construction industry. In these days of increasing concerns about security, many homeowners are leery of allowing a stranger into their homes. Knowing they are working with a professional organization relieves these customers' anxiety. In addition, we offer our customers the advantages of approved, qualified and monitored craftsmen; Further, through our pool of craftsmen, we offer one-stop shopping for a variety of home owner's needs. All of these benefits make DP and Associates the perfect choice for homeowners. Local Remodel Contractors Home Improvement Low Cost Local Home Remodel Contractors House Repair Company Cost General Contractors
Don't look any further for efficient Local Near Me General Contractors. We're here. Give us a call for quality, affordable general contracting services!
How to Find a Qualified Local Near Me General Contractor
If you're thinking about building a new home or remodeling your existing one, then you'll need to look for a dependable Local Near Me general contractor to handle your project. Once you have a set of blueprints in hand and financing is determined, the next step is to locate the best Local Near Me general contractor for your money. A general contractor works as the manager to oversee your entire project from preparing a building site to planning the exterior landscaping. He can help you get building permits, find the right subcontractors, take care of the financial records and see that all building supplies arrive on schedule.
When it comes time to search for a reliable Local Near Me general contractor many people are uncertain where to look for someone they can trust. The entire project can be very stressful if the homeowner hires a contractor that they aren't sure they can trust. It doesn't matter if your project is large or small, it's important to know that the Local Near Me general contractor you decide on is someone you believe is right for the job. There's a reason why more than 80 percent of new home builders hire a general contractor to do the job instead of taking it on themselves. And it's a good reason. Many people would rather leave the complex job of building a home in the capable hands of an experienced professional.
How do you find the best general contractor for your project? Well, it's important to note that not only must the contractor you engage be able to complete a well-built home to your specifications within your budget, the personality and style of the contractor must also work for you.
A good first step is to begin by asking friends and family for recommendations. Once you've identified a group of contractors, put the project out to bid. What does this mean? It means giving the contractor your plans and specifications and asking for an estimate. Plan your search for a Local Near Me general contractor just as you would if you needed to hire anyone. A good place to start is by checking with people you know and asking if they are familiar with a good general contractor. The local home supply centers often have bulletin boards where contractors will post their business. The internet is also a good place to look in your search for a general contractor. You can also check the yellow pages of your local phone directory, but don't be overly impressed by the larger display ads. It may be true that an impressive ad represents a larger business but you shouldn't overlook the smaller contractors that may have the time to give more attention to your project.
You should contact the Better Business Bureau before you make a final decision on any Local Near Me general contractor to determine if there are any complaints on file. Try to get specifics and ask how any complaints were handled by the contractor. Sometimes complaints are caused by a need for better communication by both parties and a contractor will fix a problem as soon as he knows it exists. Even the best Local Near Me general contractor will inevitably get a complaint or two but what matters is how he handles any complaints. Naturally if you find a number of unresolved complaints, it's logical to assume that the general contractor is not as reliable as you would want.
It's important that any Local Near Me general contractor you consider hiring has the proper licenses and insurance. It's an easy process to verify if a contractor is actually listed by calling the state licensing board or checking through an online database. Also check that the contractor has liability insurance and that he supplies workers comp for his employees. You also need to make sure the Local Near Me general contractor is bonded. If, for whatever reason, the contractor should be unable to complete your project, the bond will protect you.
Once the contractors put in their bids, you can weed out the ones that are over your budget. But by no means should you go ahead and choose your contractor now based on the lowest bid. Hold up here a second! We are not done here yet, and cost, while important, should never be the determining factor.
Once you have a handful of contractors within budget, take a look at other houses they have built. Do you like the style? Is the craftsmanship good? Do the houses seem well-built? What kind of warranty does the builder offer? Be sure to ask for references from each builder, then ask those references about any problems, if any, they have had with their homes. It's fine too to talk to people not on the reference list, as this may give you some invaluable insight. Getting Your Quote from Local Near Me General Contractors Once you have a list of contractors in mind, it's time to collect bids for your project. Keep your selection to just a few. Writing up a bid is an added expense for Local Near Me general contractor. Preparing a bid takes time away from existing projects or involves working after hours. By keeping the bidding process to just a select few, the general contractor knows he at least has a good chance of winning your contract. Too much competition and the best contractors may simply walk away because they have better things to do than spend time on a job they have a slim chance of getting.
Local Near Me general contractors will need to ask for a few details before they can provide you with an estimate. These include the size of your project and the time frame for finishing. You will need to give each general contractor a detailed list of what you'd like to see included in all of the bids. You want to make certain that you don't end up with just a number and no details to back it up. The contractor will need to give you an itemized list detailing every step of the job and what everything will cost. This includes general construction, electrical and plumbing. You can also ask for a list of potential subcontractors so you'll know ahead of time who will be working on your project.
The last consideration, and probably the most important to your decision, is how compatible you and your builder are. Are you the type of person who wants to be involved and informed every step of the way? Then a builder who is okay with giving up control is probably a good match for you. On the other hand, if you are busy and don't want to be very involved at all, then you are probably best suited to a take-charge contractor who doesn't require your guidance.
Taking your time and following a few simple steps can ensure you pick the right contractor. And picking the right builder is integral to building the home of your dreams.Sometimes, home improvement projects require an expert hand. For example, if you plan to redo your kitchen, add on a deck or even install new windows in your home, the measurements and the overall plan need to be very precise. Making mistakes in the beginning of the project can be very costly throughout the life of the project.

What Do They Do?

General contractors are helpful for large home improvement projects where the project requires you to manage, monitor and supervise multiple professionals. A general contractor's role is to manage these and all aspects of a project.

General contractors are hired for a number of reasons:

+ They provide a great deal of experience in handling your specific project

+ They will have the ability to purchase materials for your home improvement project at lower prices than you can

+ Since most general contractors have working relationships with several specific contractors, they can secure the needed

individuals at a better price than if you were to search and vet them yourself. For example, depending on the size and

scope of your project, you many need experts in areas such as plumbing, electrical, gas lines, etc. A general contractor

most likely has working relationships with contractors that specialize in these areas.

Renovate and Renew Your Home + A general contractor can handle the legal aspects of the project as well. Did you get the right building permits? Do you have insurance to cover the cost of a worker that gets hurt at your home? These things may not be something you have thought about, but they can play a significant role in your well being if they do go wrong. Renovate and Renew Your Home with Local Near Me General Contractors
It's a simple fact that as our homes age, they are going to require work. Whether it's a matter of repairs, demolition, interior renovations, or building on an addition, professional Local Near Me General Contractors are available to handle the job. A general contractor takes care of supplying materials, labor, and equipment and they will manage the entire project from start to finish. Reliable Local Near Me General Contractors can take on any task you need handled.

Professional Local Near Me General Contractors will take on any project you might need. General contractors have taken comprehensive exams to ensure their ability and they maintain up to date state licenses. As certified professionals, general contractors are qualified and competent to take on any project related to new construction, renovations and even major repairs. Whether it is for private residences, businesses, or government agencies, local Local Near Me General Contractors can handle any project that fits within their specialized area.

What Do Local Near Me General Contractors Do?
City>>> General Contractors may place bids on a project or you can simply bypass that process and hire the contractor to perform the work. They're hired as supervisors, foremen, schedulers, and directors of all tasks related to the project.

Local Near Me General Contractors can help when you want to alter existing structures even if demolition is required. They are experienced at building additions and even doing home repairs. If you need to install or relocate the electrical wiring, plumbing or heating and AC units in your home or building, you can hire Local Near Me General Contractors for the project. You can also hire Local Near Me General Contractors to take care of the labor aspect of a job if you want to design and plan out your own building or remodeling projects. If you know you need repairs made to your home, such as floor damage from a leak, Local Near Me General Contractors can tear out the damaged areas, replace them with brand-new materials, and restore the beauty and value of your home.

It would be impossible to list all the jobs that Local Near Me General Contractors can handle. They are efficient professionals who work on commercial buildings, and accept contracts for jobs involving electrical work, plumbing, mechanics, and even roadway construction. Local Near Me General Contractors understands the responsibility of environmental remediation - which is, basically, preparing contaminated or polluted sites so they can be return to public use.

Local Near Me General Contractors: Perfect for the Job
Even if you're an avid do-it-yourselfer, you want to reconsider taking on substantial renovations yourself. Local Near Me General Contractors maintain an extensive network of subcontractors, materials suppliers, and other vendors that are invaluable for getting the job done. These businesses are often more agreeable towards Local Near Me General Contractors, who offer repeat business, than they would be towards an individual who only needs them for one project. Subcontractors and vendors know when they offer Local Near Me General Contractors lower rates they can look forward to getting more business which means more profits.

Are you up to the task of buying materials, dealing with hired labor or even having to take on the actual work yourself? When you decide to handle your home improvement projects, if anything goes wrong, you are responsible. Home remodeling is not a project that you want to mishandle. Without a doubt you'll be much further ahead financially, legally, and personally by hiring Local Near Me General Contractors to handle the job for you. Their entire team of people are there waiting to help.

For example, let's suppose you want to remodel your kitchen. By working with your ideas and your budget Local Near Me General Contractors can help with the design of your new kitchen. Once you have decided on a design, Local Near Me General Contractors will estimate the required budget for materials and labor, and plan out a schedule for the work. When you and the contractors are satisfied with the plan, Local Near Me General Contractors can begin the process of hiring quality subcontractors to perform the labor. In order to keep a project on schedule and adhere to local and state codes, the Local Near Me General Contractors will bring in the necessary subcontractors.

Local Near Me General Contractors: Professional Service
Check with your local Local Near Me General Contractors if you're planning a home remodeling project. They can give you an estimate of the time and cost involved. General contractors can sometimes complete a project for considerably less than it would cost you to do it yourself. No matter the job experienced Local Near Me General Contractors are the ones to help you get it done. When you're planning a building or remodeling project, give them a call. You'll be glad you did.

Hiring a general contractor does not have to be difficult. You will find a number of different choices available to you throughout the web and in your local community. The end result is a contractor that will take your business under its wing and make it a true success.
Some people take the job of landscaping very seriously, as it might be their only source of income. These are the landscape designers or landscape contractors who specialize in different forms of landscaping.
Local Near Me Landscape Companies The fact that a wonderful landscape can increase the worth of a home, office or any property has made landscape contracting a very competitive field. Landscape contractors can work as individuals or represent a company. Mostly, their specialization includes commercial and residential landscape design, landscape construction, grading, loaming, seeding, hydro seeding, transplanting and planting, and commercial maintenance.
Unlike a hobby, when landscaping has to be done at a more serious level, that's when a landscape contractor comes in. Choosing the right contractor is a very critical decision, as it determines the success or failure of creating a high-quality landscape. While doing this, it is necessary to go through the job profile of the landscape contractor.
A good contractor will have expert selling and business skills to present himself to clients, and be knowledgeable about basic accounting principles. He should be a specialist in making and readying the landscape design plans. Landscaping is a very labor-intensive profession, which is why it requires the contactor to have the skill of managing people efficiently. He should possess the art of designing landscapes on a limited budget and creating landscape designs which are a good 'value for money'.
A landscaping contractor is a true Renaissance person, as he does more than just one job of landscaping. Even though the final product is beautification of a property, a first-rate landscape contractor is knowledgeable about everything from planning the landscape design to choosing and placing the right plants. Most professional landscape contractors charge between $45 and $95 per hour, which is a small price to pay for an asset that you will cherish forever. The Local Near Me Landscape Contractors Company is a network of Landscape Contractors that specializes in fitting you with the right contractor for your needs. Whether you are looking to have a few shrubs planted or removed or a full landscape implemented we are here to help. We are here to provide the best possible experience for anyone who is in need of Landscape Construction.
Whenever you are considering hiring a contractor for a project, it is always best to know someone who has enough knowledge about the situation to help you make the right choice. We are that someone when it comes to landscape construction projects.
We stand by our services with a 100% money back guarantee if we cannot provide you with the highest quality product available at the best price possible.
At The Local Near Me Landscape Contractors Company we specialize in finding the proper solution for all landscape construction projects with regards to:
Is the price right? What are you getting for that price?
Is the contractor right for your project? Do they have the proper skills for your type of project?
Is the warranty good for you?
We are so confident in Our Contractors that we back up their Warranty
With a Full Warranty From The Local Near Me Landscape Contractors!
Is everything completed properly? We guarantee your project will be completed on time and correctly. In project architecture and civil engineering, construction is the building or assembly of any infrastructure on a site or sites. Although this may be thought of as a single activity, in fact construction is a feat of multitasking. Normally the job is managed by the construction manager and supervised by the project manager, design engineer or project architect. Selecting Your Local Near Me General Contractors
After you have your bids in place, you should take some time to compare them. When deciding on Local Near Me general contractor you'll not only have to determine which bid is to your advantage financially but also which one is the best suited for your particular project. The general contractor with the most experience might be your first option but don't rule out someone newer to the business that might work a little harder in an attempt to establish a reputable name and good references. A newer Local Near Me general contractor may be more conscientious and work harder because he wants to establish his reputation and develop a good client base. But you need to be certain that he has been in the business long enough to properly take on your project.
The important thing is that you want to hire Local Near Me general contractor that will do the best job for the money and one that you believe you can rely on. Don't feel you have to choose the first general contractor you talk with or accept the lowest bid. While cost is probably the biggest factor to consider, you also need to keep in mind that Local Near Me general contractor is someone you'll be working closely with and you'll need to develop a good relationship. Remember that the Local Near Me general contractor you choose holds the future of your home in his hands.While these people work in offices, every construction project requires a large number of laborers, carpenters, and other skilled tradesmen to complete the physical task of construction.