2018 Local/Near Me Wood Deck Builders Contractors FREE Quote Call ☎ Today Local/Near Me Replace Wood Deck Boards Build Steps Railing. Build Roof Over Wood Deck New,
Local ➨ Wood Deck Builder FREE Quote Call NOW ➨ 24x7 Local Wood Deck Builders Contractor. Local Wood Deck Repair. Local Wood Decks Remodel Refinish Wood Deck Local. Local Wood Deck Contractor. Local Wood Deck Board Replace. Extend Add On To Old Wood Deck Builder.
Design
Making sure that your deck compliments your home, your yard and has the right space for your outdoor furnishings is important. We will work with you to create a deck that is as beautiful as it is functional that also fits your budget.
Sunroom and Deck Construction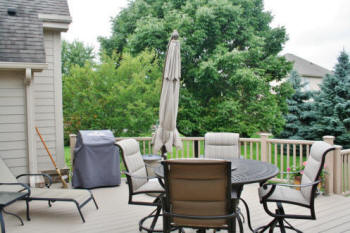 FAQ's
Q: Do I need a handrail? A: Building Code requires a handrail for all decks or walking surfaces more than 30" above ground.
Q: I saw a great, open style handrail design in a magazine, can you do that for my deck? A: Many 'open' style handrails do not meet Building Code of maximum openings such that a 4" sphere can not pass through at any point in the rail. We are happy to work with you to design a rail that you will not only be happy with, but that will keep you and your loved ones safe, as well.
Q: Do you build ramps for the disabled? A: Yes, we are more than willing to build a ramp for your needs, whether at your deck or entry to your home.
There are many synthetic decking and railing materials available from which to choose. As with any building material, there are some good ones and some not-so-good ones. To make it even more confusing, new products are seemingly coming out every week. A few that we use are Trex, TimberTech, Azek and Evergrain.
New Deck and Storage Room