2018 Local Near Me Deck Builders Contractors Call ☎ Today FREE Quote Wood, Treated, Cedar, Redwood, Pine, Timber Paint & Stain Deck Designer Local Near Me Build Roof Over Deck New, Replace Deck Boards Build Steps Railing.
Best ➨ Local Deck Builder FREE Quote Call NOW ➨ 24x7 Repair Local Refinish Wood Deck Remodel Build Composite Trex Timbertech Choicedek Cost Deck Remodel. Install/Build Local Deck Builders & Cost Local Decks Contractors Add On Extend Local Deck. Local Hot Tub Deck Builder. Wood Trex Local Deck Remodel/Repair Local Deck Board Replace Railing Build Deck Stairs Steps Local»» Treated, Cedar, Redwood, Pine, Timber Tech, Azek Evergrain. Local Stain and Seal Deck. Local Composite Decks.
Entrance Decks Balcony-Decks Bi-Level Decks Multi-Level Decks Free-Standing Decks Multi-Functional Decks Semi-Circular Decks Rooftop Decks Garage Decks Pergolas Gazebos Redwood Decks Cedar Decks Ipe Decks Trex™ Decks
Local Deck Builders
Styles of decks
Residential services for decks with fireplaces, We can help you with all phases of your deck project. From a deck Construction idea you may have, straight through to deck building. We have plenty of basic deck plans to choose from or if you are looking for a more complex design, we can make a custom design deck above to your specifications. We have extensive experience with decks of all shapes and sizes, gazebos, Patio Decks, We can build Enclosed decks using any type of materials you specify to include, composite wood materials, such as Trex, Timbertech Choicedek, Weather best as well as decks with all wood construction, ACQ Treated lumber, Cedar, Redwood, and Ipe Brazilian hardwood.
PermitsWe will provide all drawings, prints, etc. to the township necessary to obtain the permit. We will schedule all inspections which your township requires.
Footings The holes are dug to meet or exceed your townships requirements, which is normally a 36 inch hole. We pour approximately 16 inches of concrete into the hole, set the post, which is a pressure treated 6 x 6, and thenpour approximately 12 inches of concrete around the post. The rest of the hole is then filled with dirt. Upon customers request, we can also pour the footers with concrete to ground level, using a sono tube. A plate is then attached to the 6 x 6 and anchored into the concrete. An additional charge is normally applied to do this.
BeamThe 6 x 6's are then notched out to accommodate a double 2 x 10 beam. The beam sets in the notched out part of the post. It is then bolted to the 6 x 6 posts using 2 1/2 inch thru bolts per 6 x 6 post. (The reason for the notch out is so the weight of the deck rests completely on the 6 x 6 post and not just on the bolts.
FramingThe ledger board, which is the board attached to the house, is attached using 1/2 x 5 inch lags spaced 14 inches apart. Prior to attaching the ledger board, we will cut out the siding, flash it using vinyl flashing. If the ledger board needs to be attached to concrete, we use concrete wedge anchors 14 inches apart. Our framing joists are standard 2 x 10 pressure treated boards spaced at 14 inches on center for straight flooring and 12 inches on center for diagonal flooring. All joists are attached to ledger board using joist hangers. The joist hangers are zinc coated and hot dipped galvanized to eliminate rusting.
FlooringYou can choose to either run flooring straight, diagonal, or multiple directions. Whatever you choose,there will be no splices in the floor and it will be professionally cut to fit against the house and around objects such as spouting, etc. All edges are routered to give the flooring a finished and elegant look. Our flooring is normally screwed using 2 and 1/2 inch screws. The screw color will match the flooring color to blend in and make the screw less noticeable. We use a dura spin screw, which has a reverse thread near the top of the screw. This kind of screw eliminates any kind of "mushroom" which is when there is small "bumps" where the screw head went into the flooring. We also use hidden fasteners, which completely eliminates any kind of surface screwing and there will be no screws showing on the deck surface. There is normally an additional charge for this option.
RailingNormally we notch out the floor to accommodate a 4 x 4 post. This is installed on the inside of the outer 2 x 10 and gets nailed and lagged with 2 3/8 inch lags. We use a construction grade of doug fir for the 4 x 4's, as opposed to pressure treated. The reason for this is the fir does not twist as it ages and thus insures that your railing will stay perfectly straight. For most railing styles, the railing you choose will have a post sleeve designedto fit perfectly over the 4 x 4's and also a post trim, which slides over the post sleeve and down against the floor to give it a great finished look. The railing of your choice is then installed.
StepsOur steps are cut out of pressure treated 2 x 12's, and custom made on the jobsite to accommodate your deck to ground level. They will be concreted in, using the same method as the deck footings. The risers, (the back of the step) will be covered with the same product as the flooring on your deck and the ends will be routered to blend in perfectly with your deck.
FasciaThe exposed pressure treated, which is the outer 2 x 10 around the deck and the sides of the steps, is covered with fascia to match you deck color. You can choose to either have the fascia put on vertically or horizontal. This finishes off your deck so that everything blends in beautifully. This is standard and not anadditional charge.
Lattice (Optional)Lattice is optional and normally not included in the base price of the deck. Should you choose lattice we use a vinyl lattice, normally the color of your railing unless you request different. It is framed using pressure treated 2 x 4's and we can build a hinged door for access. This provides a nice area to store items underneath your deck.
Stone (Optional)If you prefer to have stone put underneath your deck, we will do so. First we put down a weed barrier to prevent grass from growing underneath your deck, then cover it with 2 - 3 inches of stone. We put down the stone of your preference. The most commonly used are the red 3/4 inch decorator stone or the 1 inch white round stone. This is normally an additional charge.
Cost Information- The cost of your deck will vary greatly depending not only on the size of deck or materials you select, but also can be affected by many things such as terrain, elevation, and the level of detail (such as railing design, steps, planters, etc). We will meet with you at your home to discuss many aspects of your new deck, including design and material selection. Of course, this visit is at no cost or obligation..
Variety of Decks Before and After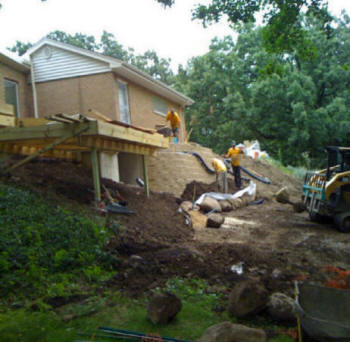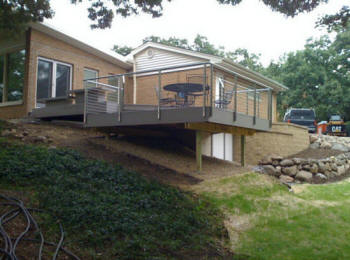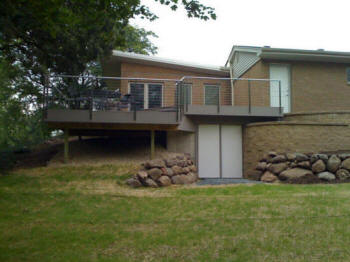 New One Level Deck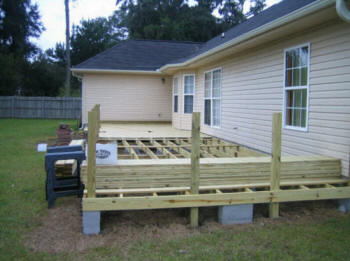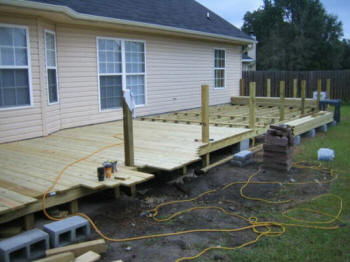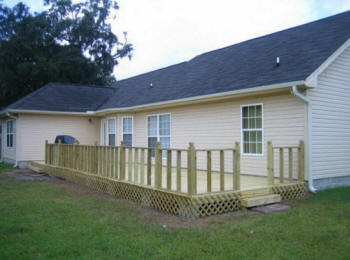 Deck With Some Shade Covering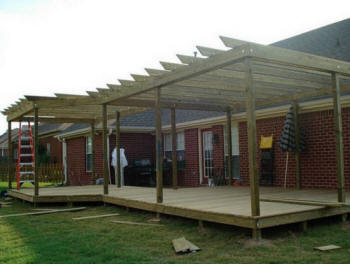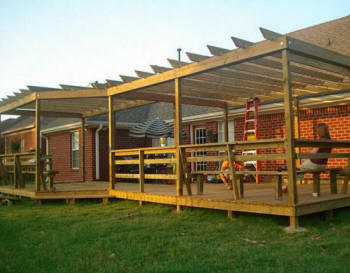 Deck and Fire Pit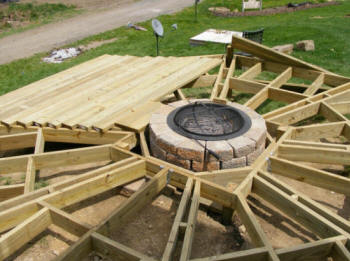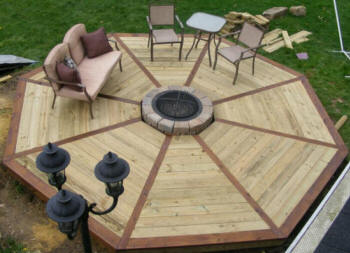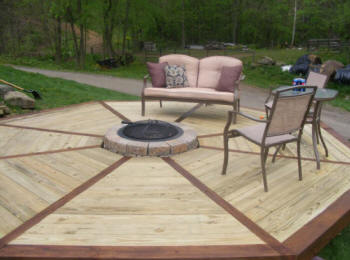 New 2 Level Deck