"Q. How do you offer so many Services?
A. We are a Company of Contractors-Tradesmen & Designers,"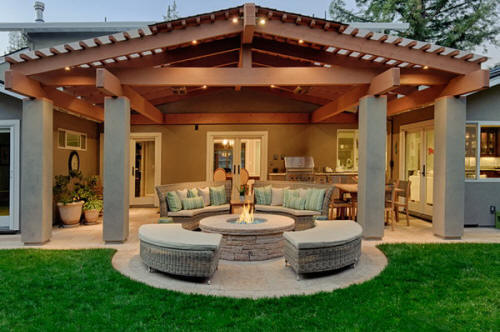 The key is to have a patio vision
Patios are great for entertaining your friends or just relaxing in the summer sun after a long day at work. If you've got a nice patio, you might find yourself spending more time on your patio in the summer than anywhere else in your house. Patios are great because they function as so many different rooms. If you have a barbecue on your patio, you can cook on your patio instead of in your kitchen. Cooking in your kitchen in the summer can be miserable because having an oven on in the summer can make your house very hot.
Paving materials
Let your patio set the stage for your outdoor living space. The character of your home and yard often determines which paving materials to use for patios, walkways, and driveways. Popular choices are brick, flagstone, bluestone or other stone pavers, concrete pavers, cobblestone, and gravel. Oftentimes two or more of these materials can be combined creatively to truly personalize a project and turn an outdoor living space into a showcase for the homeowner.
We make sure that each patio and walkway is constructed with proper grading and drainage, that base excavation is deep enough and base material compaction is sufficient to prevent most if not all settling issues, and that final product matches the beauty of the drawn designs, right down to the smallest of pattern and design details. This is the only way we know how to install patios and walkways that stand the test of time.
Outdoor Patio Area And Retaining Walls