"Q. How do you offer so many Services?
A. We are a Company of Contractors-Tradesmen & Designers,"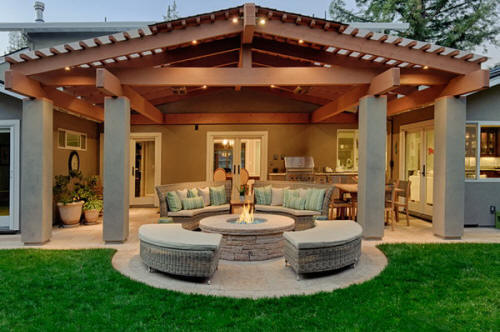 Enjoyable and rewarding
The addition of a patio will make being outside, both enjoyable and rewarding. On this site you will find resources for decorating and designing the patio of your dreams. Here you will find tips to help you decide on the right patio paving materials. Figure how to create a cool shady spot with umbrellas or awnings.
Paver Questions
What is an interlocking paver? An interlocking paver is any of many size and shaped paver products which fit together during install to create a flexible and long lasting surface.
What is the best type of paver or stone to use for my project? That will depend on many factors including budget, use of the area and personal tastes. Our representative will guide you in making a decision about materials but we offer many types of stone and hundreds of paver options.
Care of Pavers
Why do I need to use a sealer on my pavers? Sealers help maintain the color of the pavers and repel stains such as grease or oil from cars. It is recommended that sealer be reapplied ever few years.
What if I do get a grease stain on my pavers? How can I clean them? Techni-Seal's Dirt and Grease Cleaner is recommended by manufacturers. There are also other similar products that will work too.
Is it okay to use a snow plow on my paver driveway? Yes. Paver driveways can be plowed just like any driveway. A plow with a rubber edge is recommended. Do not use sharp objects to chop ice as they can damage the pavers.
Natural Stone?
Where does the stone you work with come from? We work closely to with local stone quarries as well as nationwide from Maryland to Arizona, to the international quarries, from Turkey, Italy, and as far as China. We want to bring the most selection and best available quality to our customers no matter how far we have to go to get it.
What is the difference between natural stone and engineered stone? Natural stone is produced by mother nature, while engineered stone is man made. Natural stone mainly comes from quarries where the stone is cut out of the Earth. Engineered stone is composed of crushed natural stone bound together by acrylics.
Concrete pavers come in a wide variety of surface finishes, colors, and shapes, as well as laying patterns to compliment the architectural style of your home. Clay pavers mainly come in shades of red and have a limited number of shapes available.