"Q. How do you offer so many Services?
A. We are a Company of Contractors-Tradesmen & Designers,"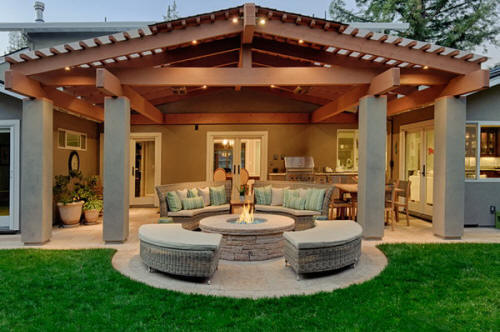 Concrete Pavers
Concrete pavers can be used to complete a variety of hardscapes, like a patio, pool deck or driveway. They come in different colors, shapes and textures to suit anyone's taste. Concrete pavers offer many advantages over just surfaces made just out of concrete. Pavers are stronger and will not crack as easily. Paver replacement is simple – if one cracks, you can remove the single paver and replace it. They also require less maintenance than concrete, asphalt or wood because there is no need to seal or power wash the surface annually.
Natural Stone
Natural stone is beautiful and has many uses. We offer patios out of irregular or cut bluestone, flagstone and other types of flagstone.
Variety of options
Designer Properties offer a variety of options for your patio. Stone Patio Construction, both Imported and Domestic Stone. Stamped Concrete Patio Construction, Stamped Concrete comes in many shapes, sizes and patterns. Concrete Paver Patios, a brick substitute; Pavers come in a huge variety of patterns.
And let's not forget The Traditional Brick Patio. A well designed and constructed brick patio will give you many years of maintenance free beauty. Our registered architectural engineer works with our design and construction team to ensure your retaining wall, swimming pool, deck, flagstone patio, or whatever your project may be is exactly what you're looking for.
Simply functional Though many people are satisfied if their patio is simply functional, if you are one of those who want something more interesting, then you should try deciding on a patio style. There are as many styles of patio as there are interior designs. Follow a few simple suggestions and try a couple of tips for a patio that is more that just a place to grill.
New Outdoor Patio Area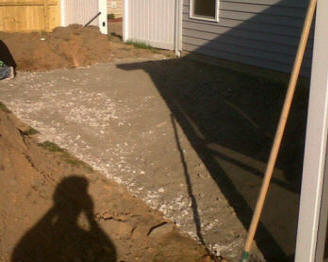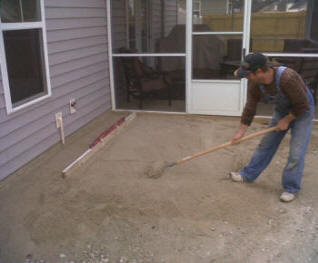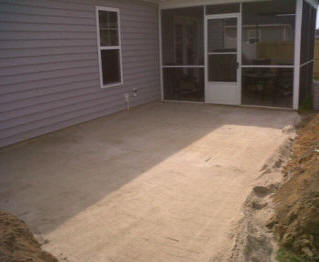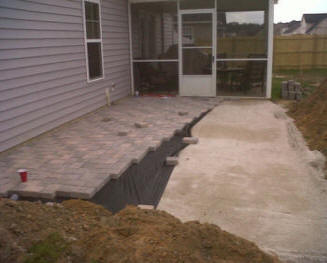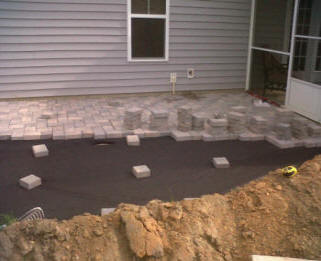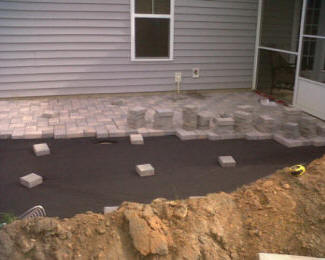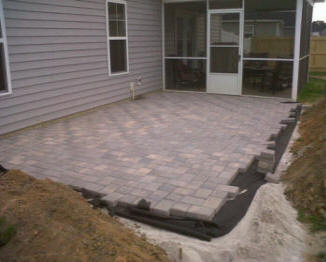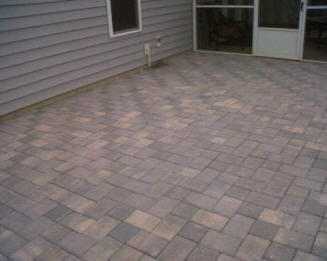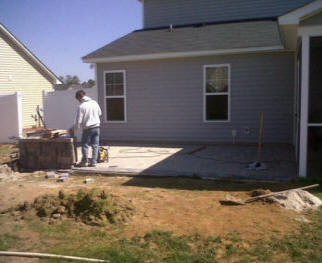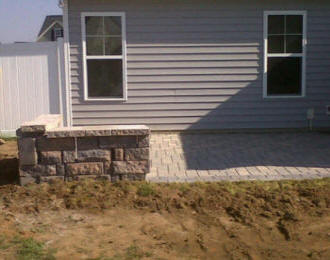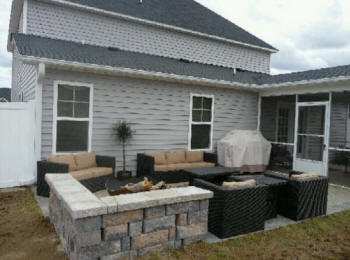 GALLERY
Flagstone patios have been used for years to upgrade the look of homes. Many people are misinformed on exactly what flagstone is and they actually thing it is a alternative name for the word paving. This is not the case at all, in fact it is something much different than just traditional concrete. Flagstones are a type of flat stones that is commonly used for laying down as a walkway or path.
So you may be wondering what is so special about this rock used to build flagstone patios. Flagstone is a classification of rock called sedimentary rocks. Wikipedia describes this type of rock as: "A certain kind of rock that is created through the process of sedimentation. It is made up of material on the surface of the earth as well as within bodies of water. Using This Material To Build A Flagstone Patio Flagstone is extremely easy material to work with and can be cut into just about any shape you want. For flagstone patios or pathways, people like to use square and rectangular shapes but you can also go for a more rustic approach and leave them in their current shape and just line them up however they fit together.
Most people do opt for laying flagstone in its natural form since you find the stones in unique shapes and when installed in a certain area it can look quite amazing when it all comes together. It's uniqueness is what draws certain people to it as a building block rather than more traditional forms of material like bricks and concrete. The ease of using it without concrete is also a great benefit compared to working with other stones and bricks. Methods For Building Flagstone Patios
The most common method to building a flagstone patio is to combine flagstone patio flagstone with cement or grout. This allows you to put down a layer of cement or grout and then in lay the pieces of flagstone so there are gaps in between the stones. This makes it easier so you don't have to perfectly line up all the stones like a puzzle, which can be quite hard and expensive to do.
Another reason flagstone is great for patios or pathways is because it is so smooth. This makes it have a great feel so if you are walking around on it bear foot you don't have to worry about scraping and cutting your feet. It's also great around a pool because it absorbs the heat very well and you can lay out on it and it feels like you are laying on a hot plate.
Local Flagstone Patio/Porch Contractors FREE Quote ➨ Local Flagstone Wall/Foundation Contractors Repair Local Flagstone Pool Patios Grout Seal Replace Local Flagstone Driveway Walkway Cost Local Flagstone Company