"Q. How do you offer so many Services?
A. We are a Company of Contractors-Tradesmen & Designers,"
Master Planning & CAD Design Swimming Pool Design Outdoor Lighting Design & Installation Outdoor Fireplaces Water Crossings & Bridges Sod & Hydro Seeding Demolition & Lot Clearing Patios & Walkways Masonry & Concrete Pool and Spa Surrounds Driveways Outdoor Kitchens & Bars Ponds & Water Features Full Landscape Installation Excavating & Grading Retaining Walls
Hardscaping
In addition to concrete, stones and bricks are also quite popular when it comes to hardscaping. These materials are each beneficial in their own rights and work to achieve certain looks or 'atmospheres' within the scope of your landscaping projects. I'm a sucker for river rock and the old ocean side cottage feel that this can add to landscaping. Others prefer bricks and an Italian countryside feel to their landscaping.
Adding curbside appeal
Revamping the front of your home is more than just improving the aesthetics of your space; adding curbside appeal to your landscape can actually add to the value of your property and bring in your asking price should you decide to sell. We are full of ideas to add curb appeal to your property and transform a dull landscape into the prettiest front yard on the block.
The important thing to remember when you are planning your landscaping and hardscaping project is that you are the only one that can recognize and implement your vision. Be creative and have fun but remember that you will be the one living in that space so make it truly and uniquely your own.
~Landscape Gallery~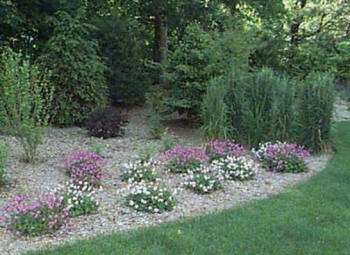 LANDSCAPE GALLERY
Landscape Design. grading and the amount of durability that will be needed. Never heard of the term before but hardscaping You may have never heard of the term before but hardscaping refers to the part of your landscaping that is non-living. This includes driveways, stone walkways, patios, and even wood decks. Concrete, stones, and bricks can also be a part of hardscaping. Also, fences, arbors, gazebos, and retaining walls can be considered part of your hardscaping. You can use boulders when designing your landscape projects and these would be considered hardscaping. Even the stones you use when building a koi pond in your yard are considered hardscaping. Landscape Gallery Products and Services Landscaping Landscape Design (In 3-D) Fountains Ponds Waterfalls Flower Gardens Sod, Rock, Mulch Installation Decorative & Functional Lighting Lawn Renovations Drainage Solutions Lawn Care Fertilization & Weed Control Flower Bed Maintenance Irrigation Winter Planter Design & Installation Snow Removal Tree Trimming & Removal Mosquito Control Hardscapes Boulder & Block Retaining Walls Paver & Stone Sidewalks & Patios.
Budget Landscaping Contractors FREE Quote ➨ Cost Budget Landscaping Companies Budget Landscape Contractors Budget Landscape Ideas Budget Hardscape Contractors Best Budget Landscaping Company