"Q. How do you offer so many Services?
A. We are a Company of Contractors-Tradesmen & Designers,"
~Finish your Basement~
Finish your Basement Increase Value of Your Home Do you have an unfinished basement you are seriously thinking of finishing? We can do that for you! Finishing your basement is an excellent way to dramatically expand your living space as well as increase the value of your home! Remodeling a basement is one of the best values around. It is often more economical than adding another room or floor onto your existing home. Unprofessionally finished basements will produce a negative return on investment. Prospective home buyers are not interest in living with or redoing the mistakes made by do-it-yourself home remodeling projects.
Have you ever dreamt about owning your own home theater with the widescreen hi-def plasma television, comfy leather chairs, and built-in popcorn machine? Or would you love an area where the kids can run and play without disrupting the upstairs living area? Believe me, you're not alone. How about adding an extra bedroom, an office, a bathroom, a recreation room, an exercise area, a bar area, or a pool table? Moving the family room, home office, or children's playroom to the basement allows for additional space in the main living area of your home. Our designers will work with you to design whatever you envision for your basement area. basement bar basement game room basement office basement wine cellar basement music room basement study basement guest room basement hobby room basement workout room basement workshop.
~Basement Before~
~Basement After~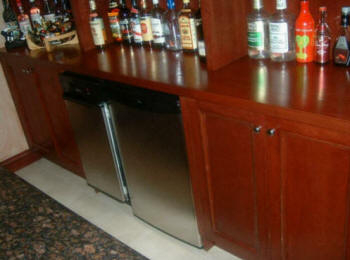 BASEMENT GALLERY
BASEMENT 1 BASEMENT 2 BASEMENT 5
Basement remodeling would make your home more attractive and comfortable. You would add a lot of usable square feet to your home with this remodeling project. This is especially helpful for those families who do not have a large backyard or any additional space to make use of. Remodeling your basement is cost effective and also a lot easier than the other types of home additions.

Make Your Basement Livable

There are many different ways in which you can make your basement more comfortable and livable. The easiest and the most cost effective way to transform the look and the feel of the room is through flooring. Until the recent times the basements had been just thought o as store rooms and they were not really spaces where people would want to spend time since they were damp and dark. However, today you can change the basement and turn it into a lovely and useable space. Basements can be used as an extra room in the house. You can covert it into a nice place with the help of just a few changes. You could even turn it into an entertainment room or home office, home theater or a games room.

The Different Flooring Options

When you undertake any type of basement remodeling plan, one of the main details that you would have to think about is the type of floor that you would want to install in the basement. Since the basement is typically a place which would remain a little damp, you would want a floor which would be able to withstand moisture. Given below are a few ideas on basement flooring:

Paint

Although it might seem like an unusual flooring option, the fact is that paint can be a very inexpensive way to change the flooring of your basement. You can use a latex paint which is semi-permeable. Basements would have some water seepage problems so using an ordinary paint would only mean that the paint can start peeling a few months later.

Laminate Floors

One of the most popular options for basement flooring is laminate floors. Laminate floors are actually quite inexpensive and they can be easily installed as a basement remodeling project. Also, laminate floors are very easy to maintain. If you have young children, this type of floor would work perfectly for you.

Carpeting

Another option to consider is carpeting. Carpets can be bought cheaper since there are plenty of flooring warehouses everywhere. However, you would not be able to brush and mop these so you would need to vacuum them regularly. However, a carpet might not be the right choice if you have high humidity and water seepage problems but they can be very useful in the winter months as they can keep the room warm.
Local Unfinished Basement Contractors FREE Quote ➨ Local Budget Basement Renovation Contractors Local Basement Remodel Company Cost Local Convert Basement Ceiling Finishing Columns Basements