"Q. How do you offer so many Services?
A. We are a Company of Contractors-Tradesmen & Designers,"
~~Planning~~
Proper Planning is a Key to a Successful Basement Renovation The possibilities are endless and proper planning is the key to a successful basement renovation. Our highly experienced Project Designers are more than happy to walk you through every step of the way. Whether you'd like a simple basement renovation or a complete basement makeover, a trusted name can make all the difference. We offer partial installations as well! Maybe you have the tools and skills, but your time is limited. Our skilled carpenters can help you with the heavy lifting and you can do the fine tuning after we finish.
~Unlivable~
storage space When it comes to your home, and you have an unfinished basement, you know you could always use more room! Let Designer Properties transform that unlivable-storage space into another room of your house. More Space Warm room Heated Floors Entertainment system Home Theater Match your Home Entertainment Room Workout Room Bar/Kitchen Area Home Theater We can match the rooms of your existing house to make your finished basement fit into the style and look as if it was meant to be there! It can be as simple or extravagant as you wish..... basement bar basement game room basement office basement wine cellar basement music room basement study basement guest room basement hobby room basement workout room basement workshop.
~Basement Before~
~Basement After~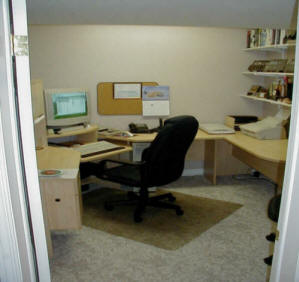 BASEMENT GALLERY
BASEMENT 1 BASEMENT 2 BASEMENT 5
The Main Plan

The next step would be to make a detailed plan of the basement. You would have to include all the windows, doors, obstructions in the plan. Count the number of the pluming supplies, fixtures, wire, light fixtures, switches, electrical outlets etc that you would need. You would have to think if you have the tools required for the tasks or if you would have to rent or buy them. There are several home supply stores that can help you with the actual quantity of materials that you would need so you can take help from them.
When you are planning on a basement remodeling project, one of the most critical things that you would have to consider is the flooring for your basement. You would want to make your basement as inviting and cozy as possible so the hard, cold cement floors of the basement are obviously not the right choice.
If you are planning to hire a contractor, it is necessary to ensure that they are certified, qualified and reliable.
Before you start the basement remodeling project, you would have to get an energy audit conducted to identify any electrical problems in the area so that there are no problems later on.
You would have to check the local building codes to know the size of the windows and emergency exits to meet the requirements.
Use area rugs, linoleum and tiles for the basement remodeling. In basements, it might get a little difficult to maintain a carpet.
You would have to use better and more lights in the basement since there is very little natural light sources in the area.
Even though basements are naturally cooler during summer and warmer in the winter months, you would need additional ventilation for better comfort. Ensure that your basement also has a thermostat.
You would have to undertake installation to access ventilation, plumbing and electrical for the upper floor as well as the basement.
Consider a horizontal design for the basement. This type of design emphasizes on the length and the width of the room. If you lay the tiles in diagonal patterns, the basement would look wider.
It would be necessary to have a full or a half bath in the basement so that you do not have to run upstairs every time you want to use a bathroom.
Local Unfinished Basement Contractors FREE Quote ➨ Local Budget Basement Renovation Contractors Local Basement Remodel Company Cost Local Convert Basement Ceiling Finishing Columns Basements