"Q. How do you offer so many Services?
A. We are a Company of Contractors-Tradesmen & Designers,"
~Concrete Contractor~
Our Concrete Services offers the best choices for your pool, sidewalk, deck, patio, porch, or driveway! Pour Lay Stamped Stained Concrete Driveway/Patio.
Residential & Commercial
Are you looking for a dependable concrete contractor for a general concrete project?
Would you like to customize your residential or commercial property with color concrete?
Our Concrete Services is exactly what you need. Locally owned and operated, we have the skills and knowledge you can depend on for quality concrete services. With our years of experience and colors, we have exactly what you want, and we can get the job done quickly and efficiently, no matter how simple or complex. From stained and stamped concrete to colored concrete, Our Concrete Services offers the best choices for your pool, sidewalk, deck, patio, porch, or driveway!
Your complete concrete specialty company. When you have construction that calls for the services of a contractor, consider Designer Properties. We specialize in all aspects of concrete construction from commercial, slip-forming, gang forming, tilt-up construction, poured walls, footings, foundations, site concrete, residential poured wall basements, decorative concrete, driveways stamping or acid staining.
Installation Gallery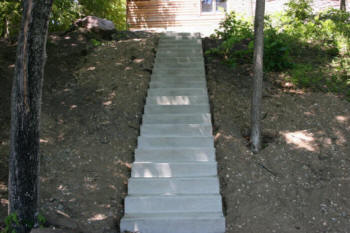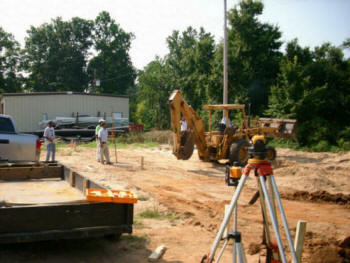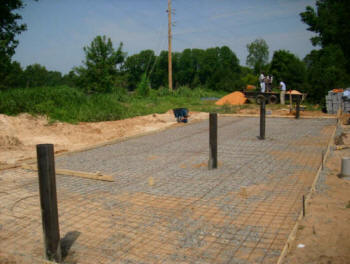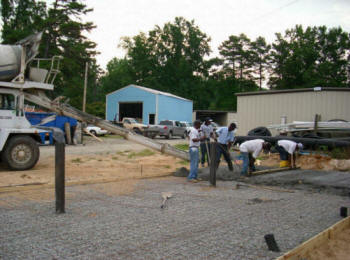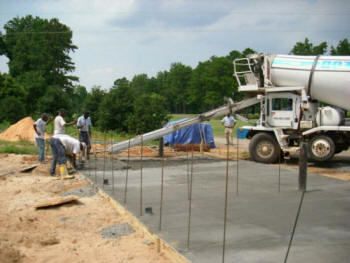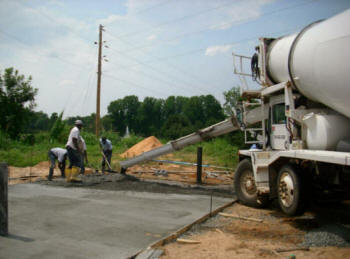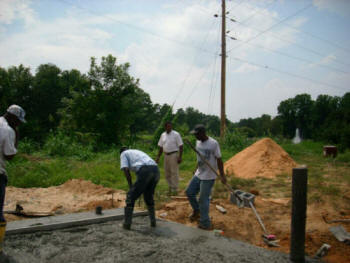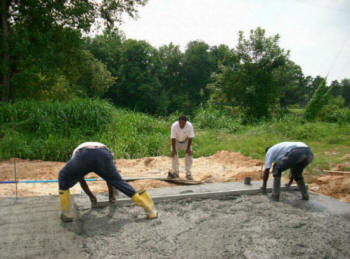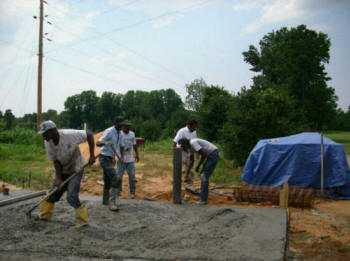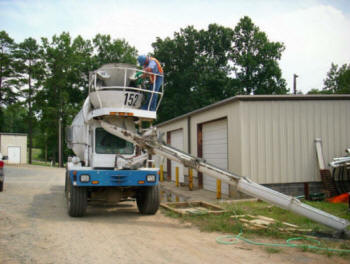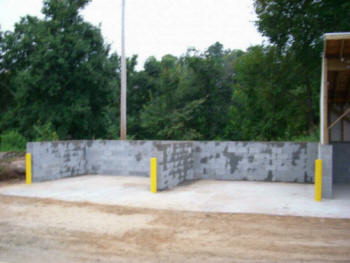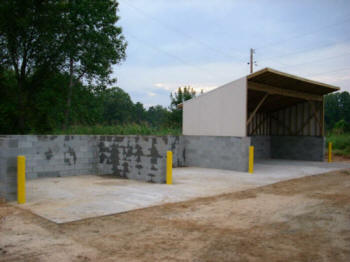 ~Gallery~
Stamped Concrete
Stamped concrete has become one of the most popular methods to enhance landscapes and buildings. A rapidly growing number of homeowners, businesses and municipalities are becoming inspired by the versatility of stamped concrete and the wide array of patterns and colors available.

This process involves "stamping" or "impressing" three dimensional patterns into colored concrete with special stamping tools or molds.

When the stamping is complete, the product is then sealed, highlighting the colors and providing greater stain and weather resistance. The result is a surface that combines the beauty of masonry with the durability of concrete.
Acid-Stained Concrete
Concrete Countertops
Today you'll find colorful concrete used as counters, sinks, bathtubs, furniture, fireplace surrounds, and floors.

Homeowners literally have an unlimited number of color choices to choose from, allowing them to coordinate a surface with other colors and materials in a room. In general performance and cost, concrete competes with both solid-surface synthetics (such as Corian and Avonite) and stone (granite, marble, and limestone), but is not as limited on color, thickness or natural patterning. Synthetic surfaces are sold in sheet form, stone in slabs and tiles, and both are limited to standard thicknesses. But because concrete is cast in molds, it can include subtle texturing, decorative objects (such as pieces of metal, fossils, glass, or even coins), changes of contour, and greater thickness; it can even form integrally cast sinks of almost unlimited shape.

Concrete contains natural materials - stone, silica-based cement, and water. Like stone but unlike synthetic products, concrete requires careful maintenance, and even when it's properly sealed, its surface can show stains and wear over time. (Whether that patina is desirable or not depends on your taste.)

Concrete Costs
None of these materials are inexpensive. On a square-foot basis, the entry-level cost for a standard-width counter runs about $50 for solid surface, $55 to $65 for concrete, and $65 or more for granite.Costs go up from there for more complex edge details, custom-aggregate mixes, cutouts for sinks, holes for faucets, and curving backsplashes. Installation charges vary with the complexity of the job.

Concrete Caveats
Concrete is not bulletproof," says one fabricator. Although a concrete counter might contain expanded metal lath, a reinforcing bar, or strands of fiberglass or polypropylene to strengthen it, cracks may appear. They can be filled with polyester-based resins colored to match the mix.
Don't leave acidic liquids - citrus juices, wines, vinegar, and alcohol - on unsealed concrete, since they can etch into the surface. Also, oil and fat can soak in.
Consider having raised strips of metal cast into countertops (like runners) to support pots and pans in areas of high use (such as near sinks or cooking surfaces). These strips can help protect against abrasion.
Do not use abrasive pads or powders on sealed counters. Clean with warm water and a non ammoniated, nonabrasive cleanser when not using a stone soap.
Do not place hot objects or adhesive tapes on the waxed surface - they could cause the surface to become discolored.

Acid Stain is not a paint or coating agent, rather, it's a coloring process involving a chemical reaction on a cementitious material. A solution made with water, acid and inorganic salts reacts with minerals already present in the concrete, the result of this reaction is permanant and lasting color.

Acid Stain transforms an ordinary concrete slab into a luxurious floor that resembles marble or glazed stone. When the concrete is stained and scored, we can create the appearance of expensive flooring at a fraction of the cost. Unlike paint, Acid-Stain reacts with the minerals present in the concrete giving it the look and feel of natural stone.

It works very well on new or old concrete, and we can create impressive results with decorative polymer overlays. Acid Stain is a very durable product if properly protected with sealer or wax, and it can be applied to both interiors and exteriors.

What makes Acid Stain so attractive? Acid Stain gives concrete a mottled, variegated, marble like look. It creates beautiful colors on concrete, mostly earth tone browns, reddish browns and greens. You can also create your own shades by mixing and matching your available colors, or applying them at different rates. Never expect Acid Stain to be uniform or have an even tone, you'll get different reactions from slab to slab, and even on the same job you may see different coloration patterns.

Acid Stain can be applied to loft spaces, walks, entrances, driveways, living rooms, bathrooms, patios, high traffic areas and even vertically to any cementitious surface

Is your concrete stainable?

Not every concrete floor is eligible for Acid Stain, though age is not an issue, the shape it's in is. A smooth concrete surface will yield more attractive results than an old worn one. If the concrete is spalled, the aggregate is exposed or has previously been acid etched, the stain may not "take in" and will not look as desired because the aggregate does not react with the stain, only materials in the concrete paste do. On some applications where the surface is textured, as in stamped concrete or stamped stained, Acid Stain provides even more depth of color, larger selection and realistic look to the surface.

How we Prepare:

Preparations for Acid Staining will depend on the condition of the slab, on new concrete the only thing needed is to allow time for curing, and some rinsing and scrubbing to remove laitance. For old concrete, a thorough cleaning is necessary; any dirt, grease, paint, sealer or curing agent will prevent the stain from penetrating and reacting.

Is your concrete sealed?

In the event that your existing concrete is sealed or was cured with a penetrating curing agent, we would have to lightly grind or sand the surface to prepare for the staining process.

It is always a good idea to do a small test area first. So before applying, preparation and thorough planning the job is a good starting point.

A good test is to drop some water on the floor and see if the floor is absorbent or if it just beads off.
Overlays
Polymer cement overlay is a combination of cement, various aggregates and proprietary hybrid polymer resins. The purpose of adding polymer resins to the cement and aggregate is to greatly increase the performance characteristics and versatility of conventional cement and concrete materials.

Unlike conventional cement and concrete mixes, polymer cement overlays can be applied as thin as a single grain of sand or up to several inches thick without fear of delamination or typical product failure. In addition, polymer cement overlays are much more resistant to damage from salt, petrochemicals, UV, harsh weather conditions and traffic wearing.

Polymer cement overlays were introduced over twenty years ago, intended for use as a thin surface restoration material for concrete substrates. With years of successful and permanent applications, polymer cement overlays were introduced into to architectural concrete and commercial flooring industry in the early 80's where it's use has become an industry norm. To this day, polymer cement overlays are used for interior and exterior applications ranging from:

Concrete Resurfacing
Designed to restore and protect damaged, pitted, flaking and stained concrete back to the look of a new concrete surface. This application can even be "broom finished" if desired.

Regrading
Offers to ability to effectively repair and level concrete surfaces that have settled and become unsafe trip hazards. Regrading from several inches thick down to a feathered edge is possible.

Stamped overlays
Similar to conventional stamped concrete, but only ¼" to ½" thick applied over existing concrete or wood substrate of any condition and at a fraction of hassle, cost and application time. The finished look is that of truly authentic tile, brick, slate, stone, wood plank and more.

Stained overlays
Quickly becoming the commercial flooring industries most demanded and specified finish. A thin layer of polymer cement is applied over existing concrete or wood substrates and chemically stained with single or multiple translucent colors for a natural looking, elegant and durable flooring system. Optional patterns are often installed with cove type strips, similar to those used in terrazzo flooring.

Splatter or knockdown
The standard for commercial and residential pool deck finishes. Polymer cement is applied to the existing concrete substrate in a moderately textured finish (average of 1/8" thickness) in various patterns. Often times, the texture is knocked down with a trowel to slightly modify the appearance and feel of the finished application.

Decorative Scoring:
You can go from a simple design to a very sophisticated project. The more complicated your design, the more labor intensive it will become, but the end results are simply stunning. We specialize scoring custom and elaborate geometric patterns into acid-stained floors.

Protective Sealing:
After the Acid Stain is applied, the floor should be sealed and or waxed to protect the stain and add shine and depth.

The Local Near Me Concrete Contractors has been growing very rapidly for the last few years, and Acid Stain has been a big part of this growth. More homeowners, architecs and designers are asking for it.
Some of the most common pattern choices include but are not limited to: slate, brick, granite, cobblestone, tile, flagstone, seamless texture, and more. It is also a common practice to use multiple patterns and colors together with custom bandwork, edges, and centerpieces.

Like all forms of decorative concrete workmanship, the design choices are only limited by your design tastes and your concrete contractors skillset.

See how we do it

See some of our work

In recent years, another popular technique of imprinting concrete to achieve the faux masonry effect is stenciled concrete.
Stamped Floor/Patio Concrete Contractors Overlay FREE Quote ➨ Stained Concrete Contractors Stamped Concrete Driveways Pour Stamped Concrete Patio Stamped Concrete Garage Floor