"Q. How do you offer so many Services?
A. We are a Company of Contractors-Tradesmen & Designers,"
Natural fencing material
Wood is the most natural fencing material. It is environmentally friendly, attractive, and a good choice for residential privacy fence use. To maintain it's good looks, wood fencing does require more maintenance than other fencing material. But it has a natural beauty that is unrivaled. Designer Properties builds a large selection of wood fence styles to choose from and we can also custom build a wood fence to meet your specific needs. All of our wood fencing comes in ACQ treated wood or the ever popular clear red cedar. We also offer privacy fences, ornamental fences, driveway and garden gates, vinyl decking, arbors, mailboxes and signs. In addition, we can make fence repairs to all types of fences. And best of all we can custom build a fence for your specific need. If you like, you can set the posts and we can build the panels to fit.
Brick, stone, and concrete are by far the strongest materials used in the construction of fence and wall construction. But over time algae, mold, mildew and damage can take away from the beauty of these durable structures. We can clean, repair, and restore your brick, stone, or concrete fence back to its original appearance. We also offer maintenance programs to keep your structures looking great all year round.
We Install and Repair All Metal Fencing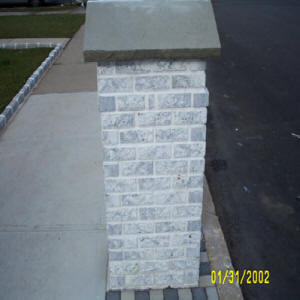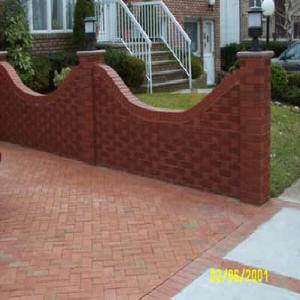 "Q. How do you offer so many Services?
A. We are a Company of Contractors-Tradesmen & Designers,"
FENCE GALLERY
Wrought Iron Fencing Wrought Iron is the style of fencing for those who are looking for strength and security. Its metal structure is much heavier than the standard metal fencing. Most wrought iron fences are custom designed and built, which increases its price range while others are assembled. Whenever you see some of the more extravagant homes in person or on television, wrought iron is generally the chosen product. Usually, conservative people tend to not use this material thanks to its funky designs. Fencing contractors are your best bet when dealing with this material. Its weight is considerably heavy and there are numerous amounts of mounting hardware, posts and panels.
Vinyl is also a popular substitute for wood, and it's up to five times stronger than wood. Homeowners will receive not only great looks, but much more privacy thanks to its design. The color of the vinyl isn't superficial. Its color runs deep and this gives you the benefits of not having to refinish it. Here are a few more benefits below: Vinyl does not decompose like wood It's rust-free The material is very flexible and won't break apart Maintains its original condition for years Chain Link Fencing Chain Link Fencing is the tried and true fencing of choice for creating boundaries. Its chain link design won't leave much to the imagination, and it will not provide much in terms of privacy.
This type of fencing. ;
It is reasonably priced, durable and aesthetically pleasing to the eye. looking for fences that can not only provide you adequate privacy, but that also match exactly with your home outlook, then brick and stone backyard fences are one of the best option to consider. It will undoubtedly be a sensible move to learn a bit about wood fence designs when you are planning on building a wood fence on your property; indeed, you might actually want to learn how to build a fence. There are very many different types of fence designs and as well as learning about the different fence styles, you might want to familiarise yourself with fence installation as well. You can then either build the fence yourself or at least be in a position to keep an educated eye on whichever of the fence companies is doing it for you. If you want a fence for decorative purposes, but feel that a fence might be too isolating for you than picket fences are an excellent option for your backyard. Since, these fences are short, they will not block the outside view and you will be able to interact with your neighbors and enjoy the beautiful scenery outside as well. These fences are also useful in keeping your children and small pets within the boundary of your home, and prevent them from running outdoors. Easy to build and quick installation These fences are easy to build and install, and you can even install them yourself. To maintain these fences waterproof them at least once a year using a sealant.
These structures can be purchased in numerous heights, widths and sizes. Though it's fairly cheaper than other styles of fencing, the amount and types of wood play a critical role in total running costs. In other words, the more lumber, the more expense. (Wooden Picket Fencing) would also fall under this category. These structures are easy on the eyes and have a classic feel. Picket fencing generally run in smaller sizes of up to 3 feet and as low as 18 inches.
Local Fence Repair Company FREE Quote ➨ Local Replace Yard/Pool-Privacy Fences Companies Local Vinyl Repair Fence Contractors Install Repair Fence Yard Local Wood Fences Replace Cost